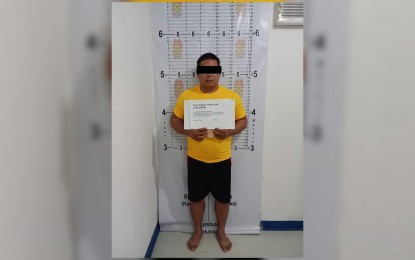 MANILA – Members of the anti-scalawag unit of the Philippine National Police (PNP) have arrested a police officer for alleged extortion in an entrapment operation in Pangasinan on Tuesday night.
In a statement Wednesday, Brig. Gen. Oliver Enmodias, chief of the Integrity Monitoring and Enforcement Group (IMEG), identified the suspect as Cpl. Danile Penuliar, who is assigned at the Bayambang Municipal Police Station (MPS).
Penuliar was arrested in an entrapment at Barangay Pantol in Bayambang at around 7:15 p.m. Tuesday after receiving marked money from a police operative who posed as motorist flagged down by the suspect while passing the axis road of the village.
The modus operandi of the suspect is to ask for a vaccination card from the motorists. He charges PHP500 from those who cannot present a vaccination card before they are allowed to pass.
"There will be no respite in the crackdown against scalawags amid the Alert Level 2 restrictions. We are intensifying our monitoring of policemen involved in all forms of illegal activities and we will apprehend them as soon as we have enough evidence," said Enmodias.
Recovered from the suspect were his PNP ID, Glock pistol, handheld radio, and one piece of PHP500 used marked money.
Penuliar was brought to the IMEG-Luzon Field Unit for documentation. He will be facing criminal and administrative charges.
Enmodias called on the public to report irregularities involving uniformed and non-uniformed PNP members to 0998-970-2286 or 0995-795-2569.
Pieces of information may also be forwarded to Facebook account Integrity Monitoring and Enforcement Group. (PNA)