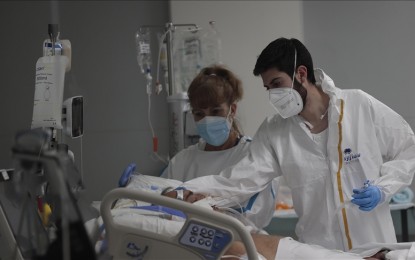 OVIEDO, Spain – At least 80 Spanish healthcare workers have tested positive for Covid-19 after attending a hospital Christmas party in the city of Malaga, officials confirmed on Tuesday.
All 80 are asymptomatic or have only mild cases, but the hospital is struggling to replace the confined workers, local media reported.
Union representatives said on Oct. 31, local health authorities fired 1,500 healthcare workers because they assumed the pandemic was coming to an end.
"If that wasn't the case, we'd have enough personnel to substitute our colleagues who can't work," Juan Carlos Navas, a union representative for Malaga nurses, told local media.
A Christmas party that is suspected to be behind the outbreak was organized by the hospital's critical care department. More than 170 people attended, but had taken antigen tests beforehand and followed all Covid-19 precautions, according to union representatives.
The Malaga outbreak is piquing fears of a possible case surge over the holiday season.
Over the last two weeks, the infection rate nationwide has nearly doubled and reached almost 250 cases per 100,000 people.
This surge in infections coincides with both colder weather and the increased indoor social contact during the holidays.
Unvaccinated children are at the center of Spain's sixth wave, with an infection rate of 412.
The country's Health Ministry has asked citizens to limit the number of people in festive events and to take precautions, though officials have so far ruled out implementing more restrictions.
For the most part, life in Spain has returned to normal although masks remain ubiquitous and several parts of the country now require vaccine passports for certain activities.
Spain's current infection rate is almost the same as it was last December, but the number of hospitalizations is now much lower.
On Dec. 9, 2020, nearly 12,200 Covid-19 patients were hospitalized and 2,179 people in intensive care. Almost a year later, hospitals are treating 4,262 Covid-19 patients and 814 people are in intensive care.
Close to 90 percent of people older than 12 in Spain are fully vaccinated. Children aged five to 11 will start getting their jabs in mid-December. (Anadolu)