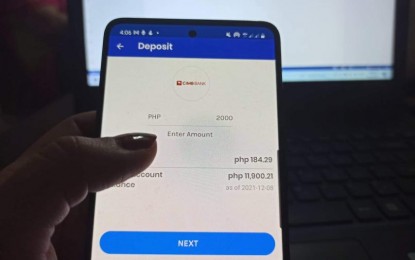 MANILA – Many Filipinos have experienced drastic financial challenges since the onset of the coronavirus disease 2019 (Covid-19) pandemic as they lost their jobs or sources of income due to the early lockdowns.
The pandemic also accelerated digitalization, making it easier for Filipinos to buy their needs and wants online through online shopping.
But how does the Covid-19 pandemic really shape Filipinos savings, lending, and insurance behavior?
CIMB Bank Philippines chief executive officer Vijay Manoharan said more Filipinos have embraced digital banking as they are doing all their banking activities through digital means.
This as they avoid going out to lower the risk of contracting the virus while financial institutions strengthen their online presence.
"In terms of savings behavior, the savings pattern, and their propensity to put their money away has also sort of change significantly, as we also encourage and as we teach our consumers the importance of saving and starting to build deposit for them for the future," Manoharan said during a press conference on CIMB's partnership with insurance firm Pru Life UK Tuesday.
With digital banks like CIMB, Manoharan said Filipinos' access to lending has also improved during this pandemic.
"On the lending side, we see Filipinos are getting access to credit and they are using these quite responsibly," he said.
Manoharan added the firm is optimistic of the Philippine market as it adds close to 2 million customers in a year despite the pandemic.
For Pru Life UK president and chief executive officer Eng Teng Wong, financial literacy among Filipinos has tremendously increased.
As seen in its portfolio, he said its number of customers in the Philippines grew "high double-digit" during the pandemic, adding it took a while before to reach this growth in number of customers.
"A lot becomes more aware and conscious to have self-protection amid the pandemic," he added.
Pru Life UK senior vice president and chief customer marketing officer Allan Tumbaga said there is a heightened interest in protection even among the young generation.
Tumbaga said Filipinos now have higher interest in insurance as they want to get protected amid the threats of Covid-19. (PNA)