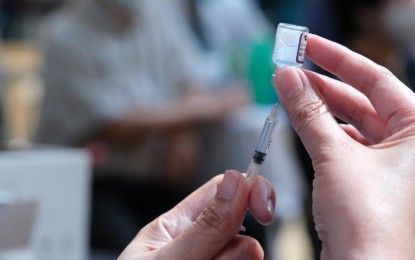 MANILA – Onsite workers are not being compelled to get their Covid-19 jabs, Malacañang said on Wednesday.
Cabinet Secretary Karlo Nograles, the acting presidential spokesperson, made this response to a complaint filed against the Supreme Court and the Inter-Agency Task Force for the Management of Emerging Infectious Diseases (IATF-EID) in connection with the implementation of a supposed mandatory vaccination against Covid-19 for onsite workers in areas where there is an ample supply of vaccines.
Nograles admitted that he has not personally seen the complaint but noted that the Palace will have to wait on the required response sought by the court.
"Procedurally if we are required to submit a comment or an answer, then we will await the court to ask us to do so. So procedurally, we will have to await whatever required response -- if any will be asked of us by the court -- and we will submit," he said in an interview over CNN Philippines' The Source.
He said the sub-judice, a legal principle which means that "a certain matter is under judicial or court consideration whose result or consequence is still undetermined and, therefore, may not be an appropriate subject to comment on publicly as to its possible outcome", will apply if there is indeed a petition.
"If indeed it is true na mayroon ngang nag-file ng petisyon in (there is someone who filed a petition in) court, then I guess the sub-judice rule will apply," he added.
He, however, maintained that there is no IATF resolution compelling anyone to get inoculated against Covid-19.
"Wala naman kaming ginawang mandatory doon. Kung titingnan natin iyong resolution na pinalabas ng (There's nothing mandatory written there. If you read the resolution we released by the) IATF, there is nothing there that says it is mandatory and even the language itself is very clear. In fact, nakalagay doon sa mga resolution namin na (it is indicated in the resolution that) it's not mandatory and it's not a basis for termination as well," he said.
The existing IATF resolution, he said, only requires those who are not vaccinated against Covid-19 to take a reverse transcription-polymerase chain reaction (RT-PCR) test or antigen tests at their own expense.
"We did everything by the book, we're an inter-agency task force and that means we also have lawyers and our legal luminaries and representative from even the [Department of Justice] were there. So lahat ng pinag-uusapan namin sa (So everything we discuss at the) IATF, obviously we really get the inputs, not just health experts but even the legal experts to make sure that the letter, the intent and what is written in the IATF resolution pass the test of being legal and constitutional even," he added.
In a 70-page petition for declaratory relief (with an urgent application for the issuance of a temporary restraining order and/or writ of preliminary injunction), Kathryn Joy Hautea-Nuñez, clerk of court of the Regional Trial Court (RTC) Branch 198 in Las Piñas City, asked the Manila Regional Trial Court to declare as void IATF's recent resolution on mandatory vaccination.
The petitioner claimed that there is no administrative remedy available to her "considering that the official pronouncement sought to be enjoined and subsequently voided is of general application and not subject to any grievance mechanism."
She said the IATF resolution placed her under pressure because "the other vaccinated court employees tried to encourage [her] to be vaccinated."
Hautea-Nuñez also said she is hesitant to get the jab after weighing information on the Covid-19 vaccines being used.
Currently, Covid-19 vaccination remains voluntary unless a law is passed making it mandatory.
President Rodrigo Duterte earlier said he favors mandatory vaccination, noting that government can use its police power to compel citizens to get vaccinated against Covid-19. (PNA)