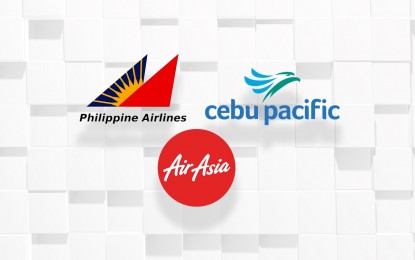 MANILA – Three of the major local carriers said the Covid-19 Omicron variant is not yet affecting airline operations, adding the government is doing the necessary measures to prevent it from entering the country.

"We can say that the country is ready. The IATF and aviation stakeholders work together in creating measures and protocol revisions when necessary. If the (Omicron) variant enters the country, then there will be an additional adjustment. We believe that the existing protocols in quarantine, testing, and arrival procedures are enough to ward off the variant," Philippine Airlines (PAL) spokesperson Cielo Villaluna said in a public briefing on Thursday.

She also noted that passengers should also monitor the travel requirements so their flights will not be delayed.

Villaluna said Omicron has no impact or threat yet on both inbound and outbound international flights of the PAL.

"In fact, we have many passengers. Out of the 4,000 passenger arrival cap, (PAL) carries 1,000 a day," she said.

PAL's outbound international flights have an average of 70 percent load factor.

Cebu Pacific (CEB) spokesperson Carmina Romero, on the other hand, said the Omicron variant might have an impact on travel confidence, but not as disturbing as when the industry feared the Delta variant.
"At this point, it's too early to tell whether it will disrupt everyone's plans for the holidays, but (CEB) continues to hope for the best while preparing for the worst. We remain agile in our response, as we have been since the start of the pandemic. We will proceed as planned for now as we continue to be cautiously optimistic in weathering this situation," she told the Philippine News Agency.

Romero added there has been a major improvement as there are more vaccinated people now, and there are vaccination and booster drives by every local government unit (LGU).

"The main difference is that Omicron emerged when almost 90 percent of NCR's target population have been vaccinated and inoculation drives are ongoing in the provinces. These figures do not include yet the individuals who were vaccinated during the National Vaccination Drive from November 29 to December 1. There are now more fully vaccinated individuals, so the situation is different compared to six months ago," she continued.

For AirAsia Philippines spokesperson Steve Dailisan, adhering to the guidelines set by the Inter-Agency Task Force for the Management of Emerging Infectious Diseases (IATF) is important.

"We hope this (Omicron) will not impact the demand for air travel during the holidays. For now, we shall closely monitor the situation and will be in constant consultation with health experts," he told the PNA.

As a proactive measure, AirAsia Philippines has been encouraging all its fully vaccinated ground and flight crew to take the booster shots when available.

"A number have already registered with our LGU partners to make sure we put an added layer of protection not only for our people but most importantly for our guests," Dailisan said. (PNA)