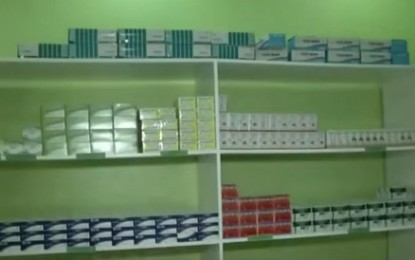 MANILA -- The Department of Health (DOH) has lauded the issuance of an executive order adding 34 drug molecules to the list of drugs with mandatory price caps.
EO 155, signed by President Rodrigo Duterte last December 7, is part of the current administration's thrust to make medicines more affordable for Filipinos.
Overall, there are now at least 120 drug molecules under the Maximum Drug Price List since the first round of price reductions was implemented in June 2020.
"We thank the Office of the President for making affordable medicines a significant focus of our Universal Health Care agenda as evidenced by this unprecedented move to broaden the list of medicines under the maximum drug retail price scheme. UHC ensures that every Juan and Juana has access to affordable medicines," Health Secretary Francisco Duque III said.
Duque said the EO comes at a most opportune time with millions of Filipinos still reeling from the health and economic impacts of the Covid-19 pandemic.
He added that the mandatory price reduction is a welcome gift for many Filipino patients seen by the DOH as a poverty-alleviating measure together with other measures implemented by the whole-of-government to improve access to medicines such as VAT exemptions and medicines access programs for priority diseases.
Under EO 155, 34 drug molecules or 71 drug formulations will have their prices reduced by as much as 93 percent from current prices.
The medicines address the most common diseases in the country such as hypertension, diabetes, asthma, COPD, end-stage renal disease, and other chronic conditions such as psoriasis and Parkinson's disease.
In February 2020, Duterte initially issued price reductions for a longer list of medicines with 87 drug molecules and 133 formulations.
The DOH, together with the Food and Drug Administration and the Department of Trade and Industry, has been monitoring the implementation of the law and issuing sanctions for violators of the drug price regulation.
"There has been good compliance overall by manufacturers, distributors, hospitals, and pharmacies since we implemented the MDRP. We also thank the drug establishments for their cooperation and willingness to work with the government in our efforts to lower drug prices despite the supply chain challenges resulting from the pandemic," Duque said.
EO 155 also repealed EO 821 which imposed maximum drug retail price on five drug molecules – amlodipine, atorvastatin, azithromycin, cytarabine and doxorubicin in 2009 where generic competition has already resulted in significantly lower prices for the said medicines.
All drug establishments are given ninety days to consume their existing inventories before EO 155 takes full effect on March 22, 2022.
Meanwhile, senior citizens and persons-with-disability are still eligible to enjoy special discounts for drugs included in the MDRP list.
The DOH, through the FDA, continuously monitors the impact of the current price regulation as well as the compliance of all players with the MDRP.
Violations against the MDRP are subject to fines and administrative sanctions under the Cheaper Medicines Act which include penalties ranging from PHP50,000 to PHP5,000,000 for every violation. (PR)