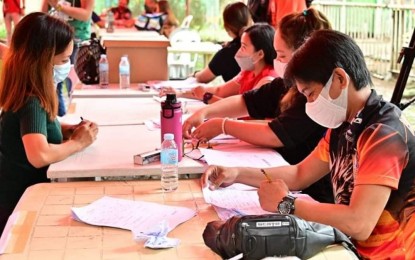 DAVAO CITY – More than 6,000 residents in this city's first district stand to benefit from the continuing cash-for-work project of the first congressional district office, in coordination with the Department of Social Welfare and Development (DSWD), through the agency's Kapit-Bisig Laban sa Kahirapan - Comprehensive and Integrated Delivery of Social Services (Kalahi-CIDSS) program.
In a statement Friday, the office of Davao City 1st District Rep. Paolo "Pulong" Duterte said the ongoing payout at the People's Park here is expected to cover all 6,000 beneficiaries by the end of the month.
The Kalahi-CIDSS is a poverty alleviation program of the national government implemented by the DSWD.
Cash-for-work is a short-term program that allows distressed/displaced people to gain temporary employment by engaging in or carrying out preparedness, mitigation, relief, rehabilitation, or risk reduction initiatives and activities in local communities or evacuation centers.
"The recipients will collect PHP3,960 once they can complete the 10-day cash-for-work program. This is to address the adverse effects of the coronavirus disease 2019 (Covid-19) pandemic," the statement added.
The lawmaker's office said the residents are employed temporarily in services, such as cleaning and sanitizing public places and barangay offices; collective livestock or vegetable and fruit gardening; and cleaning vital roads, before the payout.
On the other hand, the presidential son personally turned over patient transporters and ambulance tricycles to the 16 barangays under the first district at the Jesus Soriano National High School, Barangay Catalunan Grande here on Wednesday.
In an interview, Duterte assured that there would be a series of distributions to complete the 54 barangay recipients under his district.
He said the transporters and ambulance trikes aim to address the immediate response of health programs and services in barangays, especially to far-flung communities of the district.
"We will give the whole 54 barangays a pair of these vehicles. I am thankful to the ACT-CIS Party-list under Congressman Eric Yap and to his friends in China who donated these vehicles," he said.
Also included in the donation is a disaster response vehicle that was given to a selected barangay.
Duterte is looking forward to the time all 54 barangays would have their patient transporters and ambulance trikes.
He added that he and Yap are doing their best to work with friends and members of Congress to complete the project.
"The ambulance trikes will be very useful to pick up patients especially in the barangays with narrow roads," he added.
Duterte also assured that more projects would be poured into the first district under the Pulong, Pulong ni Pulong program. (PNA)