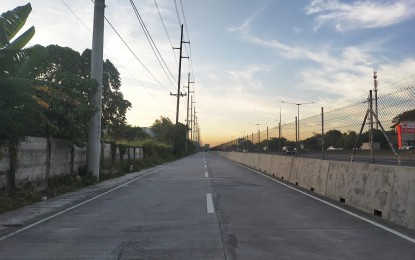 MEYCAUAYAN CITY, Bulacan – The new Meycauayan East Service Road was formally opened to the public on Friday.
The PHP294-million new service road, which connects Barangay Libtong in Meycauayan City and Lawang Bato in Valenzuela City, will ease both northbound and southbound traffic in the cities.
Using a portion of the North Luzon Expressway (NLEX) right-of-way, the Department of Public Works and Highways (DPWH) constructed the 1.2-km., two-lane service road as an alternative route for those traveling between the cities of Meycauayan and Valenzuela, bypassing MacArthur Highway.
NLEX Corp. vice president Donna Faylona-Marcelo said the tollway company is pleased to help the government in its commitment to build more roads for the public.
"The new service road aims to provide motorists with a direct local route and help improve traffic flow, especially during rush hours at (the) Meycauayan Interchange," she said during the opening ceremony.
Aside from relieving traffic, the infrastructure is expected to enhance mobility and make economic activities in Meycauayan and nearby areas more efficient, Marcelo said, adding that "the service road also complements NLEX's efforts to reduce traffic congestion."
The project is part of the Bulacan road network improvements to encourage economic growth and deliver travel convenience and safety.
The construction of the new service road started in 2017 and was completed in October this year.
Also leading the opening ceremony were Bulacan 4th District Rep. Henry Villarica, Meycauayan City Mayor Linabelle Ruth Villarica, and Toll Regulatory Board (TRB) executive director Alvin Carullo.
"The Department of Transportation fully supports road projects like this as the agency also strives to improve the way people move around the urban areas through better road transport solutions," Carullo said.
Over the years, vehicular traffic in both the east and west directions of Meycauayan has dramatically increased, owing to the city's growing economy and expanding developments.
Mayor Villarica said "the service road will improve the accessibility and address the increasing traffic volume in our city as we host many manufacturing and industrial companies."
"With the opening of this route, motorists coming from Paso de Blas in Valenzuela City may reach Malhacan in Meycauayan City faster, compared to using other local, more congested roads," she said.
Rep. Villarica, meanwhile, underscored the collaboration of both the public and private sectors in completing the project, saying "the new Meycauayan East Service Road is a testament of commitment and shared vision to boost public service."
Soon, motorists may also enjoy a more direct local route to and from Meycauayan and Marilao as the DPWH and NLEX are working on the construction of the 190-meter Marilao East Service Road.
In 2017, NLEX Corp. implemented a traffic improvement program in Meycauayan, which included the construction of additional exits and the expansion of the southbound toll plaza.
These improvements generally reduced congestion during peak periods and translated to shorter travel times.
Recently, it also undertook the rehabilitation of the Meycauayan bridge to strengthen the structure and ensure the safety of motorists. (PNA)