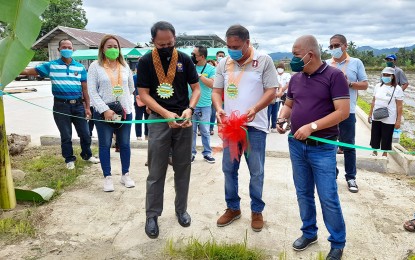 BUTUAN CITY – A total of 292 farmers from two barangays in the town of Sta. Josefa in Agusan del Sur recently received three newly-completed solar dryers through the Convergence on Value Chain Enhancement for Rural Growth and Empowerment (Project ConVERGE) of the Department of Agrarian Reform in Caraga (DAR-13).
The solar dryers were formally turned over to the farmers through their organizations on Thursday.
"Around 140 of the recipients are agrarian reform beneficiaries or ARBs in the area while 152 are small household farmers who will also benefit from the project," Regional Director Leomides Villareal of DAR-13 told the Philippine News Agency Friday.
He pointed out that the solar dryers will further equip the rice farmers in Sta. Josefa with the appropriate farm implements that will help them improve their productivity.
The three solar dryers have a total cost of PHP2.28 million, each with a capacity of 100 bags of rice for drying.
The projects were constructed on Feb. 17, 2021, and were completed last June 17, 2021.
Provincial Agrarian Reform Officer Jamil Amatonding of DAR Agusan del Sur, in a separate interview, said the solar dryers will allow the ARBs to charge higher for their farm produce.
"Usually, the traders can dictate the prices of palay if they own the dryers. But with these projects now owned by the farmers, they can now market their well-dried and good quality farm products at higher prices," Amatonding said.
The recipients of the projects included the ARBs from Sitio Dao in Barangay Angas, the ARBs in Barangay Angas proper and the ARDs from Barangay Sayon, all in Sta. Josefa town.
Reached by phone on Friday, Diego Dela Cruz, the chair of Sayon Organic Farmers Association, thanked the government and the DAR for the solar dryer they had received.
"This project has given us high morale to continue with our farming ventures. We need not pay for the drying services of the palay buyers and traders. We can now look for markets that will buy our products at higher prices," Dela Cruz said.
He added that for years, the government, through the DAR, has always provided support to the farmers in the area.
"Last year, a farm-to-market road was completed that linked us directly to the market centers. The project was also facilitated by the DAR with the support of our local government unit in Sta. Josefa," Dela Cruz said.
The formal turnover of the solar dryers on Thursday was also witnessed by Mayor Symond Caguit and other top officials in Sta. Josefa town. (PNA)