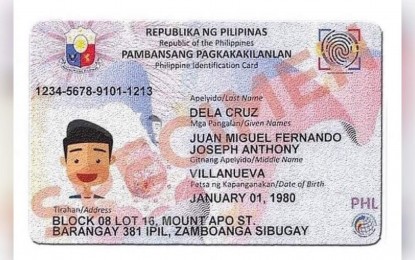 DAVAO CITY – A Philippine Identification (PhilID) card or national ID, when lost, cannot be used by non-owners because it has no signature that could be forged or copied.
The Philippine Statistics Authority (PSA) made the assurance in response to a social media query of a PhilID holder who lost the physical card.
"My national ID was lost. What will I do? Please help. It might be used by others and I will be the one to answer for his acts using my national ID," netizen Jaron Jay Cabanero asked the PSA through a public post on December 7.
PSA-Philippine Identification System (PhilSys) quickly replied that nobody can use the lost ID.
"That is the beauty of the national ID which has no signature of the registered name. They can't use your ID because there is no signature which they can forge. Once it is verified through fingerprint or iris scan, this will not match with their (other persons) fingerprints or iris scans," the PSA explained.
Cabanero was advised to go to the PSA to apply for a replacement of his national ID.
Section 6 of the Implementing Rules and Regulations (IRR) of the PhilSys Act states that issuance of a replacement ID due to loss has a corresponding fee.
The same charges will apply to replacement ID due to damage or change of entries.
"Fees however, shall not apply to citizens presenting Certificates of Indigency issued by the City/Municipal Social Welfare Office," the IRR stated.
Signed into law by President Rodrigo R. Duterte in August 2018, Republic Act 11055 or the PhilSys Act aims to establish a single national ID for all Filipinos and resident aliens.
The national ID shall be a valid proof of identity that shall be a means of simplifying public and private transactions, enrollment in schools, and the opening of bank accounts.
It also seeks to boost efficiency, especially in dealing with government agencies where people will only need to present one ID during transactions. (PNA)