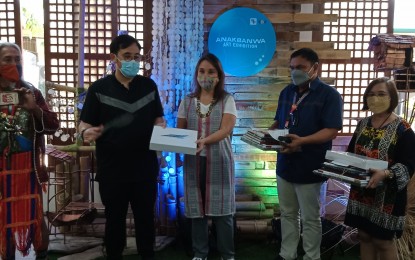 DAGUPAN CITY – Three Luzon-based artists truly captured the vibe of the fourth district of Pangasinan in their artworks displayed at the "Anakbanwa" Arts Exhibit at the historical MacArthur House in West Central Elementary School here that is open to the public from December 10 this year to Jan. 31, 2022.
Razel Mari, a visual artist and industrial designer, called his artwork "Rooted Birds" which was made of locally-sourced fiber materials in the province.
"I was inspired by the mangroves and birds we saw along the way as we drove in the towns and cities of the fourth district of Pangasinan," he said.
Parts of the roads in the district are usually in parallel to either fish ponds or river systems, while a flock of birds feeding on the fishes are a common sight. These birds usually have long beaks and are colored bright white or black.
Mangroves are maintained and even propagated as they serve as home to different aquatic wildlife and protect against erosion.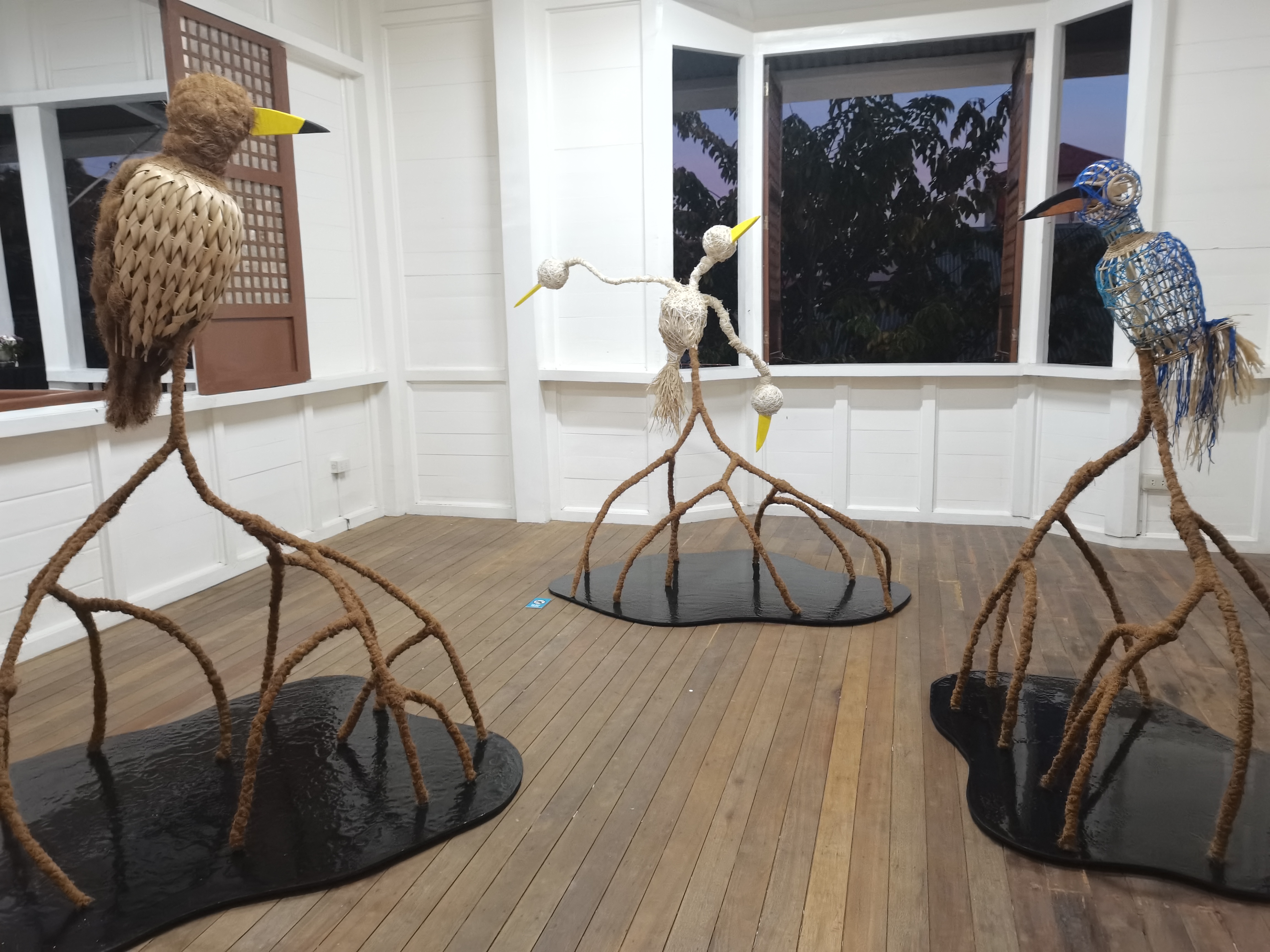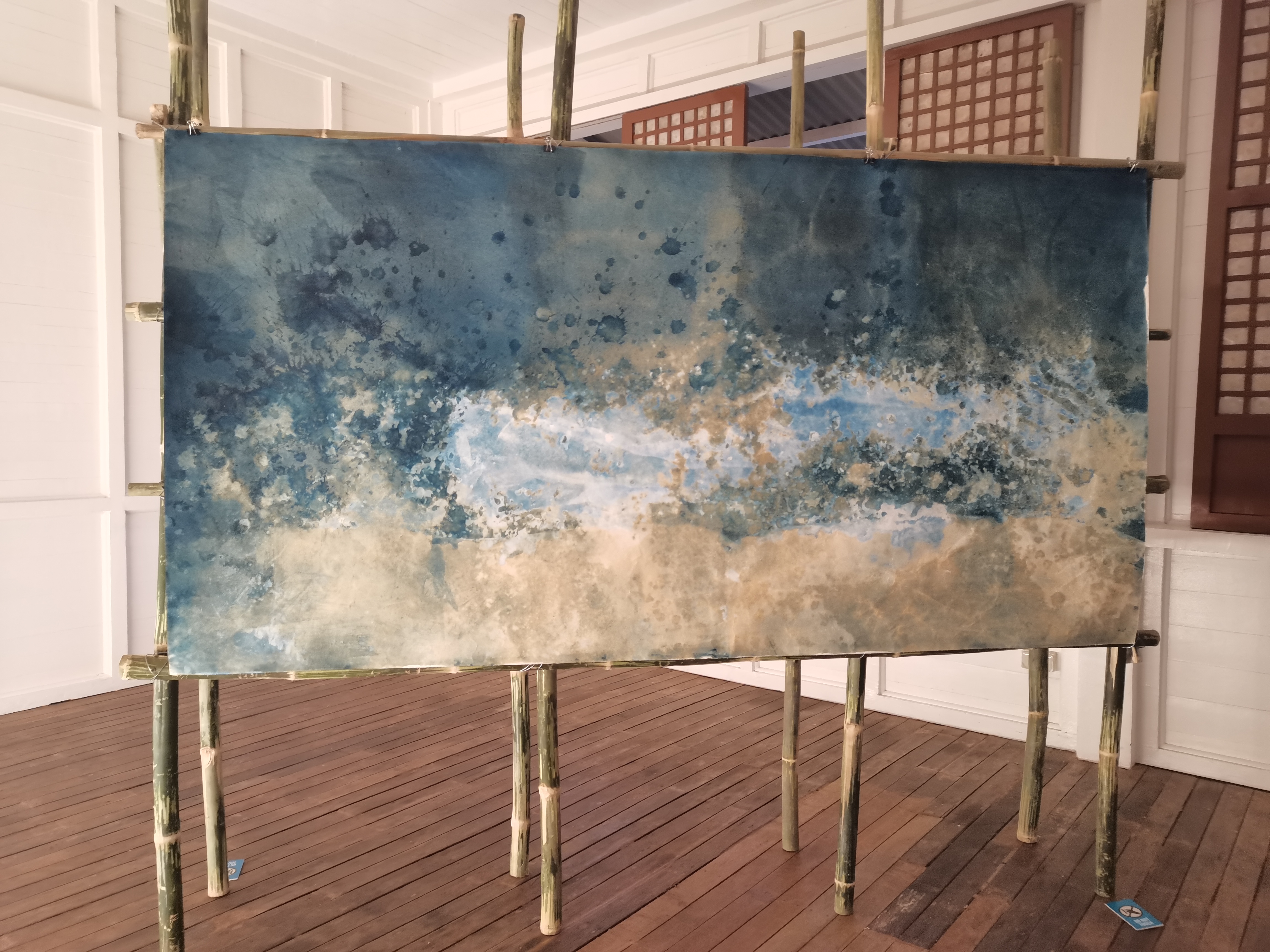 Corrine de San Jose, an award-winning film sound designer and multi-disciplinary artist, said her "The Shore is Parchment 1" artwork was inspired by the ruggedness of the Tondaligan Beach in this city.
"At the beginning of the art residency, my proposal was more of quiet and meditative but when I saw the beach, the water had a different behavior with its strong current and that was what I wanted to capture," she said.
San Jose applied different chemicals and processes in a huge canvass to create her masterpiece.
Her artwork flaunts the Tondaligan Beach's bluish water; sometimes strong and violent, and sometimes calm.
Marco Ortiga, a production designer, filmmaker, and metal fabricator, made a kinetic sculpture from a discarded wooden boat.
"We met Roy Bilbis during our hunt for materials to be used for my craft. Roy was a fisherman for 20 years but he lost his livelihood when his boat was destroyed by strong waves while he was sleeping just a few weeks ago, before our encounter. I used the pieces from his destroyed boat as my material for this artwork," he said.
Ortiga said although the waves are "hypnotic and beautiful", they could also be at times destructive.
"What I learned from Roy is his love for the ocean and how we should protect and preserve it," he said.
Ortiga's art piece is interactive; it could be turned to see the movement of the woods, and imitate the waves and the sound of the ocean.
Aside from the artworks of the Anakbanwa Residency artists, different works of local artists like Pope Dalisay, Prince Logan, Jai Hernandez, Rose Felix, Albert Alegoyojo, Troy Casupanan, Lyantra Pasion, Lorren Dizon, Eduard, and Pochacho Patatas, as well as some Department of Education (DepEd) senior high school students are also on display at the exhibit.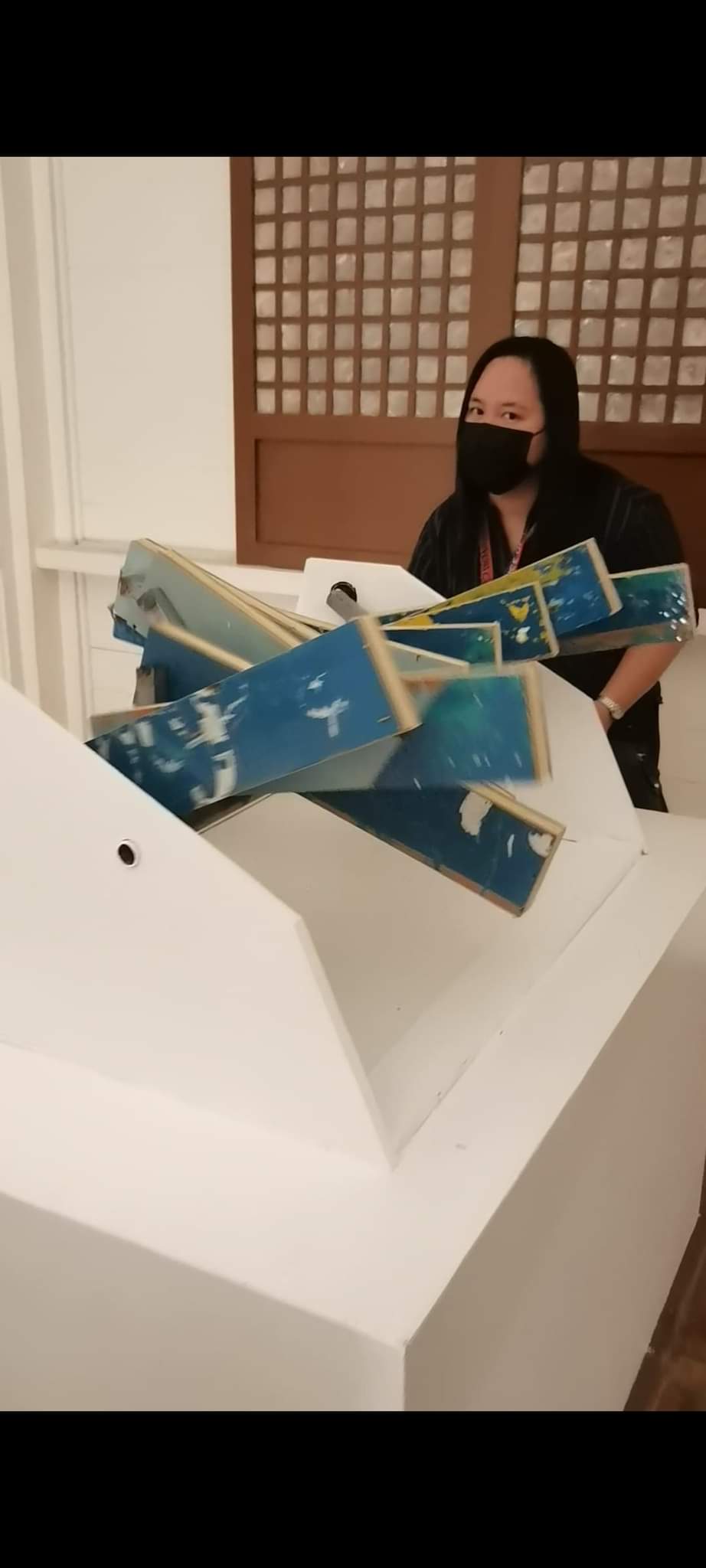 Pope Dalisay, one of Pangasinan's artists, commended the program as it encourages local artists like him and especially the young people to appreciate arts.
"This is a very good thing as the love for arts is now being decentralized from Metro Manila to the regions. We hope there will be more arts residency programs in the province soon and may this be an eye-opener to the young people about arts," he said.
The Anakbanwa Arts Exhibit is open to fully vaccinated visitors Wednesday to Sunday from 10 a.m. until noon and 1 p.m. to 5 p.m. with bookings required through
http://bit.ly/Anakbanwa
. Walk-ins are allowed from 3 p.m. to 5 p.m. on Saturdays and Sundays.
DepEd senior high school students may visit for free but they have to present a valid student identification (ID) card while adults will have to pay PHP50, and senior citizens and persons-with-disabilities PHP40 as entrance fee.
A portion of the proceeds from the entrance fee will go to the West Central Elementary School's capital outlay and maintenance expenses.
Anakbanwa arts residency
Anakbanwa Arts Residency project director, an independent arts practitioner, Andrei Nikolai Pamintuan, said the project was conducted in October with the three Luzon-based artists, Pangasinan local artists, and DepEd senior high Arts and Design Track and Special Program for the Arts.
"We gave the artists an avenue to immerse (themselves) with the district and its people to come up with their masterpieces. Local artists also got the chance to interact with each other with renowned national artists like Kidlat Tahimik. We also conducted art workshops with senior high students," he said.
He added the project was a brainchild of fourth district Rep. Christopher de Venecia who is known as a creative champion in the Congress.
De Venecia said one needs to "listen to cultural warriors who have been clamoring for us to preserve our country's heritage –both tangible and intangible."
"The beautiful thing about preserving our past is that it enhances our present and future experiences. This exhibit I believe will show how this can happen. You'd be surprised to see how our featured artists' modern and contemporary take on living by the interior or "alog" and coastal or "baybay," meshes well with the unique story of the MacArthur House as a backdrop. As I always say, culture is our most strategic comparative advantage, and creativity is our greatest value add," he said.
De Venecia said one of the legislative measures he has been working on closely with DepEd and the National Museum is the Fund Our Museums bill, which aims to construct a museum roadmap and provide a funding framework for the National Museum to build more regional, areas, and site museums across the country.
"This will provide more exhibition space to our artists, more livelihood to the visual arts community, improve cultural and creative tourism, and strengthen the role of museums in the holistic education of our learners. We also look forward to being able to put up the Edades and Bernal Museum here in Dagupan which will serve as an homage to our two National Artists –Victorio Edades and Salvador Bernal– while providing an avenue to exhibit the works of our present and future creatives," he said.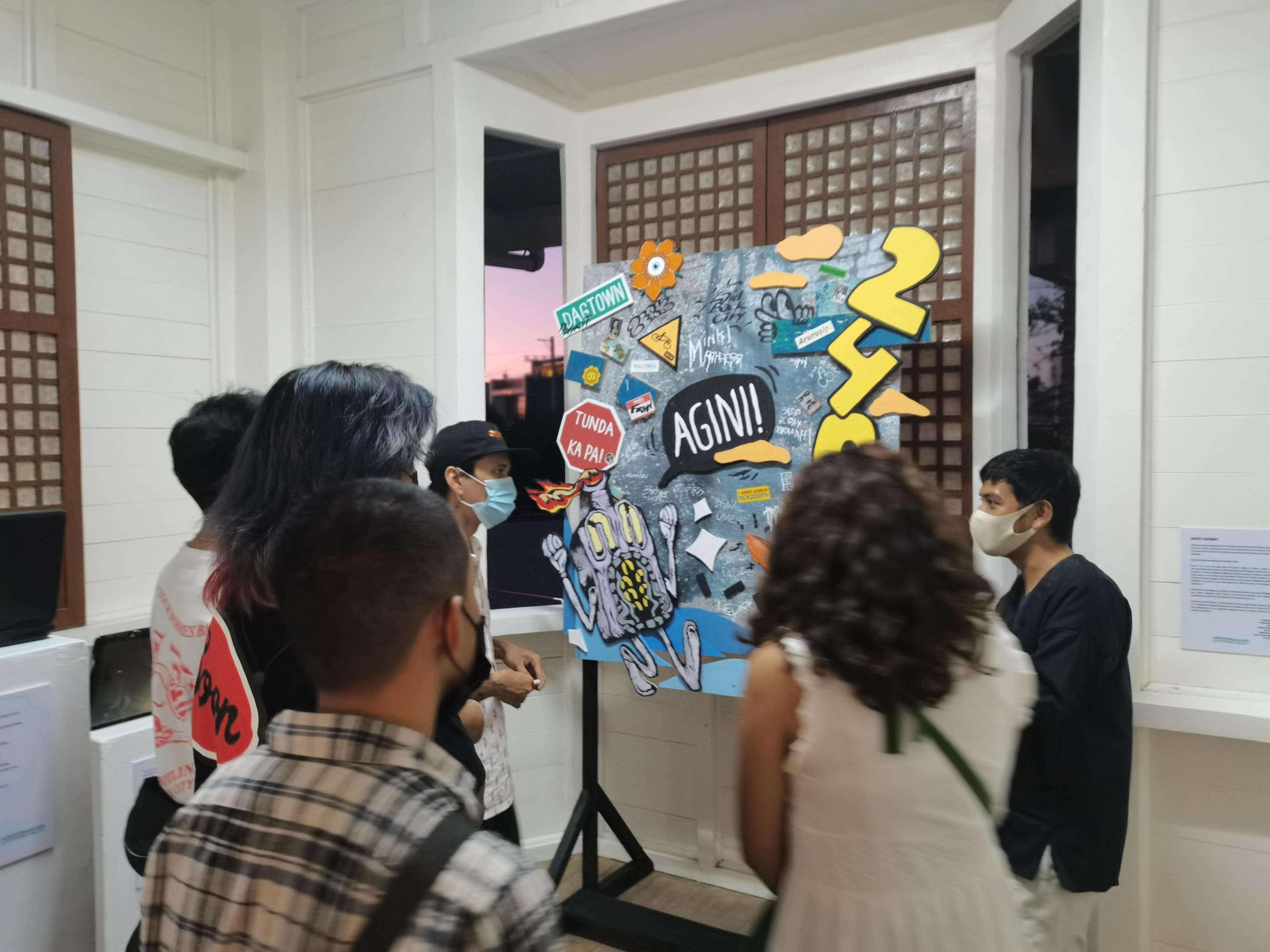 De Venecia said he hopes these measures will inspire students in the arts and designs to have the courage to pursue their artistic side as they realize that there is income and livelihood in being creative.
"Aside from infrastructure and education, creative industries also include livelihood, environment, and identity, and pride of place, as well as the overall happiness in the community," he said. (PNA)