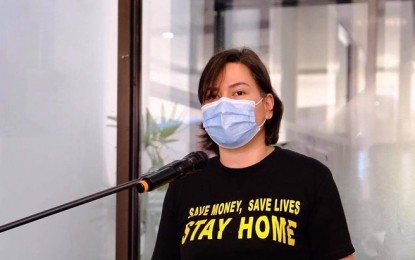 DAVAO CITY – Mayor Sara Z. Duterte is hopeful that the next local administration would continue using the Safe Davao Quick Response (DQR) system for future gifts or "ayuda" (social services) from the government to Dabawenyos.
In a radio interview Monday, she said that the mechanism would be much easier and allow a smooth flow on the distribution process.
"The DQR will also be our e-wallet for Dabawenyos, and the hard plastic card will also serve as the senior citizen's ID and the PWD (persons with disability) ID," Duterte added.
She said that the DQR of the senior citizens and PWDs will be linked to their bank accounts to avoid long queues and to make sure that they will easily be served.
"This would avoid mass gathering. It will be used if we will give assistance to Dabawenyos," Mayor Sara added.
She also reminded the Dabawenyos to protect the information on their DQR and keep them confidential.
"Make sure you do not lose your account because this will be your permanent DQR. Any social services or any disaster assistance will be coursed through your DQR," Duterte said.
Currently, the city government here is giving out Christmas "pahalipay" (gifts) sent via the DQR starting December 8 to January 31, 2022.
All city residents will receive a grocery pack and a PHP1,000 gift certificate through their DQR accounts. (PNA)