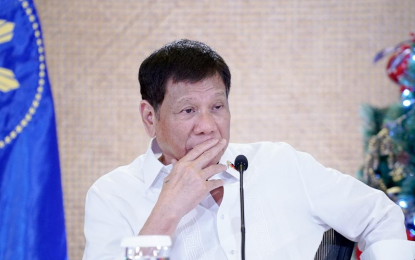 MANILA – The Duterte administration will stand "neutral" during the May 2022 national and elections, President Rodrigo Duterte said on Monday.
In a prerecorded Talk to the People, he made this assurance while giving a recap of his participation in the Summit for Democracy organized by the United States (US) from Dec. 9 to 10.
"This early, I'd like to just – magbigay lang ng payo (I will just give advice) that when it comes to the elections, government, the administration will stand neutral. Neither for or against kami, kalaban o kasama sa partido (We will neither be for or against, opponents or allies in the party), we will participate in the exercise of that right," he said.
Duterte did not elaborate what he meant by "neutral", but vowed to ensure that the upcoming polls would be peaceful.
"We will see to it that there will be no terrorism, vote buying, at (and) intimidation and everything that would put a hindrance to an honest election," he added.
In his speech during the Summit for Democracy on Friday, Duterte said even as work continues in the remaining months of his term, his administration will ensure "honest, peaceful, credible, and free elections."
Highest honor to turn over power
He said as he steps down in June 2022, it will be his "highest honor" to turn over the reins of power to my successor knowing that he did his "best" to serve the Filipino people.
Duterte reiterated the Philippines' proud distinction as the first-ever republic and oldest democracy in Asia, noting that it remains a "vibrant democracy" and "an open and diverse society" to this day.
He added that while the country's democracy is "far from perfect", it continues to be a "work in progress."
"I am proud to be at this Summit for Democracy to tell you about the Philippine experience. Philippine democracy is indeed a work in progress. But the Filipino is free. The Philippines is free," he said.
'Good friends'
Meanwhile, Duterte reiterated that he continues to regard China as a "good friend" even if some do not share his sentiments.
"I'd like to remind everybody that when everything was down for us, it was China…for whatever really is masabi nila (they say) about the relations of the Philippines and China, I would maintain that we are good friends and they were the first one to give us the vaccines," he said.
He, however, clarified that the Philippines' sovereign rights over the West Philippine Sea would not be compromised, even if China is the country's friend.
"Iyong issue diyan sa West Philippine Sea ibang issue 'yan at ibang issue itong pagkakaibigan natin sa kanila (Our friendship with them is one issue, but the issue there in the West Philippine Sea is different issue)," he added.
During the Summit for Democracy, more than half of the countries in the world, including the Philippines, were invited while the rest were left out.
Some of the countries that were left out include China, Russia, Hungary, Egypt, and Turkey. (PNA)