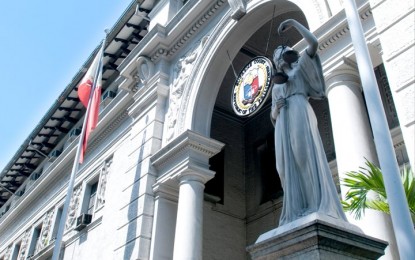 MANILA – The Supreme Court (SC) upheld rulings by the Court of Appeals and the Davao Regional Trial Court (RTC) dismissing criminal cases against businessman Dennis Uy and a customs broker.
Uy, then the president and chief executive officer of Phoenix Petroleum, and Jorlan Cabanes, were charged with the alleged smuggling of PHP5.9 billion worth of petroleum products in 2010 and 2011, initiated by Senator Leila de Lima who was Department of Justice (DOJ) secretary at the time.
"In sum, the lower courts' finding of no probable cause are supported by relevant laws and evidence on record. Mindful of these considerations, the Court of Appeals' affirmation of the dismissal of the charges is not tainted with grave abuse of discretion," read the SC decision posted on its website on December 11.
"When probable cause is judicially determined by the trial court, questions on the propriety of the executive determination of probable cause becomes moot. At that point, questions on the accused's guilt or innocence rests on the trial court's sound discretion," it said.
In 2011, the Bureau of Customs (BOC) charged Uy and Cabanes with violations of the Tariff and Customs Code.
The BOC alleged that Phoenix imported petroleum products with dutiable value of PHP5.9 billion reportedly without import entries and withdrew the importations despite failure to file import entries and without load port surveys in the ports of Batangas City and Davao City.
The charges were dismissed in 2012 but the BOC filed a motion to reopen the preliminary investigation.
On automatic review, then-DOJ Undersecretary Francisco Baraan III affirmed the dismissal of the BOC's complaints.
De Lima, however, issued a resolution on April 24, 2013 ordering the filing of criminal charges against Uy and Cabanes – three at the Batangas RTC and 22 in Davao City.
Uy and Cabanes challenged de Lima's resolution, which was eventually dismissed by the CA and Davao RTC.
The CA ruled there was no probable cause to charge Cabanes and Uy because there was no proof of their personal liability and no evidence of fraud with respect to Phoenix's importations from 2010 to 2011.
Meanwhile, the Davao RTC ruled that in the absence of probable cause, a warrant of arrest could not be issued and that the criminal charges did not allege specific acts committed by Uy nor was there an allegation that he was personally responsible for the filing and processing of import documents.
De Lima, BOC, and the Office of the Solicitor General elevated the case to the SC, which denied their petitions. (PNA)