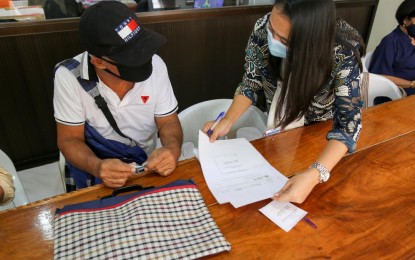 LEGAZPI CITY – The Department of Social Welfare and Development (DSWD) in Bicol has provided livelihood settlement grants to 21 families in Camarines Sur under the "Balik Probinsya, Bagong Pag-asa" (BP2) program.
Ranelle Anne Sertan, BP2 information officer, said in an interview on Tuesday the beneficiaries are all from the National Capital Region (NCR) who want to permanently reside in the province and are given the grant as start-up capital for the continuity of their livelihood and economic activities.
"Based on our record, the latest payout was given on Monday (Dec. 13) and the assistance ranges from PHP27,000 up to PHP50,000 based on the assessment of DSWD Sustainable Livelihood Program (SLP) staff," she said.
Sertan added that aside from the livelihood assistance, the beneficiaries also received transportation assistance, transitory family support package, and transitory shelter assistance as part of their transition phase in their respective communities.
Meanwhile, Rosalie M. Barizo, Regional Program Coordinator (RPC), said the beneficiaries were identified and assessed based on the generated list of applicants using the registration system of the National Housing Authority.
She said interested families or individuals may apply through the official website of the BP2 program at www.balikprobinsya.gov.ph or visit the nearest Balik Probinsya Center in the barangay.
Likewise, individuals or families who have returned to their respective local government units to permanently reside therein may also register in the BP2 program through the Local Social Welfare and Development Office (LSWDO).
An assessment will be conducted by the LSWDO to determine the eligibility of an applicant to receive a specific assistance package from the program.
The BP2 is one of the support measures of the government to decongest urban poor communities by providing opportunities to families from urban areas who are affected by the pandemic, displaced workers, or those susceptible to health and safety risks and other environmental hazards. (PNA)