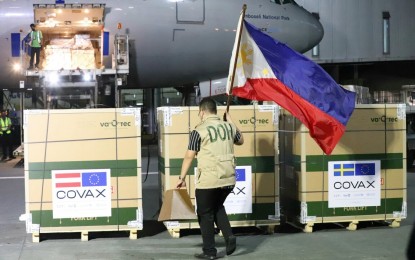 MANILA – More vaccine donations from European countries have continued to pour into the country, with the latest shipment of 3,789,600 doses of the Janssen vaccine from Sweden, Austria, and the Netherlands arriving on Tuesday.
In an interview at the Ninoy Aquino International Airport, Swedish Ambassador to the Philippines Annika Thanborg said it was a pleasure for her to personally witness the arrival of the vaccines, about 1,512,000 doses, donated by her country through the COVAX Facility.
"We will also donate at least six million non-earmarked vaccine doses in 2021, 1.5 million of these doses will go to the Philippines as you have seen in this shipment, and we want to thank the Department of Health, Secretary (Carlito) Galvez, of course, my dear colleagues from the European Union," Thanborg said. "Vaccine equity is key. No one is safe until everyone is safe."
Austrian Ambassador to the Philippines Bita Rasoulian said the vaccination drive is a "global effort" that must be done together with other nations. Austria also donated 266,400 doses of Janssen.
"You may know that Austria is among the lead contributors to the COVAX Facility as part of Team Europe, as part of the European Union. We applaud the Philippines for its ongoing vaccination effort, for this very successful vaccination drive, and for Austria that every nation, every citizen, every person around the world has access to high-quality vaccines," Rasoulian said.
The Dutch government's donation of 2,011,200 doses of Janssen also arrived on the same day at about 10:15 p.m.
World Health Organization (WHO) representative Rabindra Abeyasinghe, who was present during the arrival, lauded Sweden and Austria for their donations, saying these would help increase the number of fully vaccinated Filipinos.
"As we mentioned before, this is a unique window opportunity we have to protect as many of the vulnerable people as possible. So that they are better protected when the Omicron variant eventually arrives here," he said.
Abeyasinghe said COVAX would deliver an excess of 14 million doses this week alone, bringing the total number of deliveries through the facility to more than 50 million doses.
"This is much more than what COVAX promised at the beginning of the year when we promised to protect 20 percent of your population. We want to continue to partner with the government of the Philippines in your successful vaccination effort to ensure that every Filipino is protected," he added.
National Task Force Against Covid-19 chief implementer and vaccine czar, Secretary Carlito Galvez Jr., said the donated Janssen jabs would be allocated to residents living in "geographically challenged" areas.
"Priority natin sa Johnson and Johnson (Janssen) ay yung (are the) areas of BARMM, Region 5 (Bicol), Region 12 (Soccsksargen), and other areas in Davao City, lalo na tinatawag nating (especially those we refer to as) most geographically isolated areas and also (the) island (of) Tawi-Tawi, Sulu, Basilan, and other islands in the areas of Bicol," he said. (PNA)