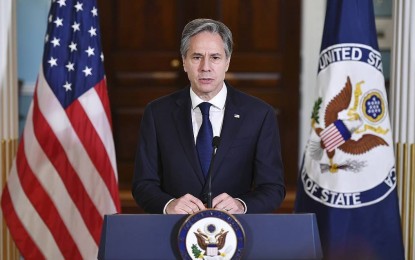 MANILA – The United States government said it would continue to "push back" on Beijing's expansive maritime claims in the South China Sea (SCS) as it outlined its priorities in the Indo-Pacific region.
US State Secretary Antony Blinken, during a speech in Jakarta on December 14, said Washington, DC is determined to ensure the freedom of navigation in the strategic water where more than USD3 million worth of goods pass through every year.
"It's worth remembering that, tied up in that colossal number, USD3 trillion, are the actual livelihoods and well-being of millions of people across the world. When commerce can't traverse open seas, that means that farmers are blocked from shipping their produce; factories can't ship their microchips; hospitals are blocked from getting life-saving medicines," he said.
Blinken also reaffirmed the 2016 arbitral ruling that rejected China's nine-dash line in the region.
"Five years ago, an international tribunal delivered a unanimous and legally binding decision firmly rejecting unlawful, expansive South China Sea maritime claims as being inconsistent with international law. We and other countries, including South China Sea claimants, will continue to push back on such behavior," he said.
The US, he said, would forge "stronger connections" within and beyond the region and deepen its treaty alliances with Japan, the Republic of Korea, Australia, Thailand, including the Philippines.
China, the Philippines, and several littoral states are locked in a territorial dispute over the South China Sea.
At the recent Asean-G7 ministers meeting, Foreign Affairs Secretary Teodoro Locsin Jr. said "recent incidents and the heightened tension" in the area remain a serious concern.
He noted that Manila has fired diplomatic protests for every incursion and opposed the application of China's Coast Guard Law beyond the limits of its maritime entitlements under the 1982 United Nations Convention on the Law of the Sea. (PNA)