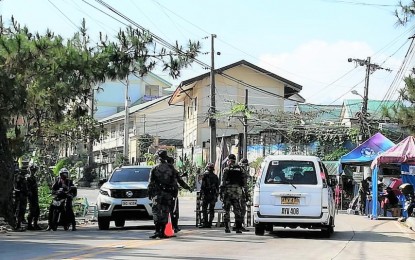 BAGUIO CITY – The city government here has advised visitors to take advantage of the additional 1,000 slots opened for tourists per day, as the arrival ceiling was raised to 5,000.
City Information Office chief Aileen Refuerzo said in a phone interview on Thursday that many tourists have been planning to visit Baguio but have failed to get a quick response travel permit (QTP) in the online registration platform because of the daily limit for non-essential travels.
A "No QTP, No Travel" policy is being implemented at the border checkpoints leading to Baguio.
"The city has added 1,000 more to make it 5,000. Take advantage of the opened slots now," Refuerzo said.
She said the city government opted to increase the daily ceiling due to the clamor for more visitors' slots.
Refuerzo, however, advised the tourists to comply with the requirements set by the city for non-essential travel.
She noted that only individuals who are fully vaccinated against the coronavirus disease 2019 (Covid-19) are allowed to enter the city as tourists.
She also cautioned travelers against presenting spurious documents, saying authorities have a way of verifying fake ones.
"Marami na ang nakasuhan ng (Many have been sued by the) BCPO (Baguio City Police Office) kasi nag-a-attempt silang magsubmit ng (because they attempted to submit) fake document(s). We can detect them with our trained personnel at the triage so please do not try," Refuerzo said.
The 5,000 daily limit in the number of tourists here excludes those visiting the Baguio Country Club, as well as the Manor Hotel and Forest Lodge, both located inside Camp John Hay, which have their triage facilities.
The city government had earlier said that the cap on the number of tourist arrivals had to be imposed due to the limited capacity of the central triage, where the verification of travel documents is being done.
The triage also conducts antigen testing for tourists who are exhibiting symptoms of Covid-19.
In case an individual is found positive of the virus, the person is automatically subjected to a reverse transcription - polymerase chain reaction (RT-PCR) test and is immediately brought to an isolation facility, pending the release of the confirmatory test result.
The members of the whole group where the person belongs are regarded as close contacts and also isolated or sent back to their place of origin.
Engineer Aloysius Mapalo, the city tourism officer, had said Baguio was striking a balance between health and the economy as many residents remain unemployed after the pandemic struck the tourism industry.
He said the increase in the number of visitors' slots would also allow the tourism stakeholders to recover from their losses by taking advantage of the Christmas season while Covid-19 cases in the city and the country remain low. (PNA)