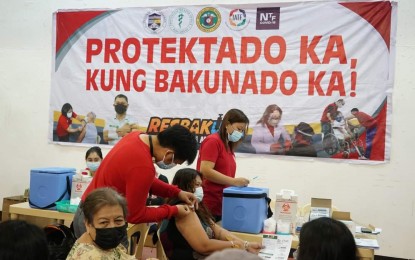 SAN FERNANDO CITY, La Union – Some 66,393 residents of Ilocos Region have availed of the coronavirus disease 2019 (Covid-19) jabs on the first day of the second leg of national vaccination day (NVD) on Wednesday.
Based on the data released by the Department of Health Center for Health Development Ilocos Region (DOH-CHD-1) on Thursday, Pangasinan, including Dagupan City, inoculated 36,649; Ilocos Sur with 13,326; Ilocos Norte with 7,570; and La Union, 8,848.
In a phone interview on Thursday, John Paul Aquino, member of the DOH-CHD-1 immunization coordinator, said the NVD 2 targets to reach 70 percent of the eligible population in the region.
As of December 14, the vaccination rate in the entire region was 53.94 percent or 2 million of the target 3.72 million eligible population who have already been fully vaccinated.
Some 82.59 percent or 3 million residents have already received at least the first dose of the Covid-19 vaccines, he said.
Aquino said they are prioritizing the province of Pangasinan for the NVD 2 considering its vaccination rate at 45.32 percent or 538, 642 for fully vaccinated and 73.35 percent or 1.5 million for the first dose.
Pangasinan is the biggest among the other three provinces in the Ilocos Region.
Its targeted eligible population for immunization is at 2 million. Its chartered city, Dagupan, has already fully inoculated some 78,609 or 61.73 percent of its target and 111,530 or 87.58 percent for the first dose.
Ilocos Sur and Ilocos Norte have reached the 70-percent target for population protection in their vaccination rollout.
Some 358, 908 have been fully inoculated while 485,878 have received the first dose in Ilocos Sur, and 303,919 fully vaccinated in Ilocos Norte while 450,219 have received the first dose.
In La Union, 326,175 were fully immunized, or 55.78 percent of its targeted eligible population, and 504,949 or 86.35 percent got their first dose.
"The goal is to reach herd immunity (population protection) so we are maintaining the momentum of the national vaccination rollout. Again this is a whole-of-society, a whole-of-government approach. We want the Bayanihan spirit in our NVD 2," he said.
Meanwhile, Aquino said they are also focusing on the immunization of the pediatric population or the 12 to 17 years old in line with the opening of the limited face-to-face classes next year.
"We have inoculated 460, 994 for the first dose and 127,971 in the pediatric population in the region as of December 14. The target is to vaccinate more than 543, 306 pediatric population in the entire region," he said during a virtual press conference hosted by the Philippine Information Agency Ilocos regional office on Wednesday. (PNA)