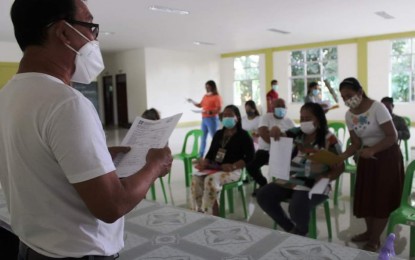 SAN JOSE DE BUENAVISTA, Antique – Local government units (LGUs) in Capiz and Guimaras have preemptively evacuated a total of 1,539 families in preparation for Typhoon Odette on Thursday.
Cindy Ferrer, information officer of the Office of Civil Defense Western Visayas (OCD6), said the evacuees composed of 4,718 individuals from 58 barangays are staying in gymnasiums, barangay halls, and health centers identified as evacuation centers by their respective villages.
Data from the Regional Disaster Risk Reduction and Management Council (RDRRMC) showed that 230 of the 1,539 families were from Nueva Valencia in Guimaras and the rest are from the 57 barangays of 11 towns in Capiz.
Meanwhile, as per available data, the suspension of trips due to the hoisting of Tropical Cyclone Wind Signal (TCWS) has stranded 703 passengers, 220 rolling cargoes, 14 sea vessels, and a motor banca in the region's various ports.
With the typhoon approaching Western Visayas, Ferrer said the regional office of the Department of Social Welfare and Development (DSWD) has prepositioned 19,433 family food packs to be augmented to LGUs when needed.
"They have already prepositioned family food packs also in Capiz and Guimaras to augment the resources of the LGUs," she said.
Meantime, Antique Provincial Disaster Risk Reduction and Management Officer Broderick Train during his coordination meeting with his municipal counterparts, said they are prepared to implement the preemptive evacuation.
"You may also implement forced evacuation with the Philippine National Police if the people still refuse to leave their homes despite the danger," he said.
He said the municipal DRRMOs have to closely monitor the storm surges especially so that Antique has 15 of the province's 18 towns along coastal areas.
Severe Weather Bulletin No. 11 issued at 2 p.m. by the Philippine Atmospheric Geophysical Astronomical Services Administration (PAG-ASA), placed southern and central portions of Negros Occidental, the southern portion of Iloilo, the southern portion of Antique, and Guimaras under TCWS No. 3 while the rest of Iloilo, Capiz, and Antique and the province of Aklan under TCWS No. 2. (PNA)