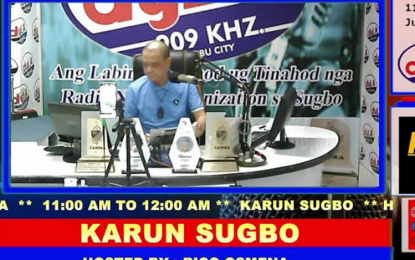 MANILA – Malacañang strongly denounced the shooting of Rico Osmeña, a blocktimer for radio station DYLA, who was shot while onboard a minibus traveling along Urdaneta St. in Barangay San Roque, Cebu City on Thursday.
"The Presidential Task Force on Media Security (PTFoMS) condemns the attack on Rico Osmeña. I have already asked the Philippine National Police (PNP) Regional Office to use all available manpower and resources to find and apprehend the perpetrators of this cowardly act," PTFoMS Executive Director, Undersecretary Joel Sy Egco said in a news release.
Initial report submitted to PTFoMS by the PNP through Maj. Edgar C. Labe, station commander of Police Station 3 in Cebu City, disclosed that at around 12:30 p.m., two unidentified male gunmen suddenly boarded the minibus and shot the victim twice in the back and immediately fled.
Another female passenger was injured during the incident.
Both victims were rushed to a nearby hospital and are currently undergoing treatment.
Police investigators recovered two "fired cartridge case of apparently caliber .45 mm" from the crime scene.

Egco said while it is still too early to determine the motive behind the attack, the Task Force will presume it to be "work related" as a matter of policy.
He also said with the elections fast approaching, he expects to see more cases of threats and violence against media workers.
He said he will ask Department of the Interior and Local Government Secretary Eduardo Ano, who is a member of the Task Force, to designate media security focal persons at the provincial and city levels through the PNP.
"In anticipation of this spike in cases of threats, intimidation or harm against members of the media, these police media security focal persons will play a huge role in preventing any untoward incident from happening. They will directly communicate with the PTFoMS Secretariat in Malacañang. I will formally ask Secretary Ano the soonest," Egco said.
Information received by the PTFoMS from members of the media in Cebu City revealed that Osmeña's blocktime program at DYLA, "Karun Sugbo" airs from 11 a.m. to noon from Monday to Friday.
While Osmeña is not known to be a hard-hitting commentator, he was said to be very critical of alleged vegetable smuggling in Cebu.
Egco reminded broadcasters, specifically blocktimers to be more vigilant and to immediately contact the PTFoMS "if you feel threatened in any way. We are a just a message or a phone call away 24/7. We will provide you with real time security and protection if you need it."
PTFoMS was created by President Rodrigo Duterte in 2016 to provide a safe environment for media workers, a first in the world. (PR)