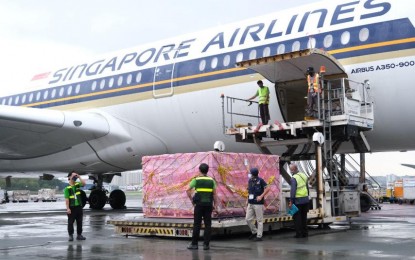 MANILA – The Philippines received another 1,020,500 doses of Moderna vaccines on Friday, donated by the German government through the COVAX Facility.
Secretary Carlito Galvez Jr., chief of the National Task Force (NTF) Against Covid-19, welcomed the arrival of Singapore Airlines Flight SQ912 that landed around 3:50 p.m. at the Ninoy Aquino International Airport (NAIA) Terminal 3 in Pasay City.
The European Union (EU) and its member states, such as the Netherlands, Germany, Sweden, France, Spain, and Austria, earlier vowed to stand in "full solidarity" with the Philippines by initially donating 14,525,700 million doses of various Covid-19 vaccines brands delivered from December 13 to 15.
The newly-arrived Moderna doses are part of around 9.9 million more donations expected to be delivered by EU members by the end of the 2021.
"We thank the European Union and all those who donated the much-needed vaccines considering that these are much needed in order for us to have the global immunity," Galvez said.
Galvez was joined by Anja Hartung, first Secretary and consul, German Embassy; United Nations Children's Fund (UNICEF) deputy representative Thomas Meyerer; EU First Counsellor Maurizio Cellini; UNICEF Immunization specialist Carla Orozco; and NTF Director Carissa Cruz.
Scheduled for delivery on Saturday are France's donation of 811,980 doses of the Pfizer jab while of the 1,164,150 doses of government-procured Pfizer vaccines (through the Asian Development Bank) that will arrive later, 105,300 doses will be sent to Davao. (PNA)