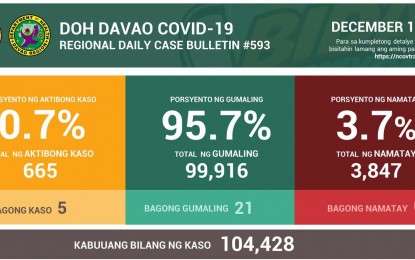 DAVAO CITY – No new cases of the coronavirus disease 2019 (Covid-19) have been recorded in three provinces and one city in the Davao Region, its regional Department of Health (DOH-11) said Sunday evening.
Davao City, and the provinces of Davao Oriental, Davao del Sur, and Davao de Oro were among those that logged zero Covid-19 cases in the latest case bulletin released by the DOH-11 on December 19.
The DOH-11 reported that five new cases of Covid-19 were recorded, one in Davao del Norte and four in Davao Occidental, bringing the total number of active cases to 665.
There were also 21 new recoveries reported -- 19 are from Davao de Oro, and two from Davao Oriental.
All the new cases were reported as local transmission and no deaths were reported.
The DOH-11 also reported that 62.8 percent of intensive care unit beds, 77.7 percent of isolation beds, 81.6 percent of ward beds, and 65.3 percent of mechanical ventilators are available.
Just last week, the Davao City Task Force Covid-19 said in a statement that the city hit its lowest Covid-19 positivity rate since March 2020, currently at 0.5 percent.
Dr. Michelle Schlosser, the spokesperson of the Davao City Task Force Covid-19, attributed the low positivity rate to the cooperation and discipline of Dabawenyos.
She also reiterated that the public's number one protection against Covid-19 is adherence to the minimum public health standards, such as the wearing of face masks, social distancing, proper hand hygiene, and vaccination.
"If we can avoid unnecessary gatherings, the better," she said. (PNA)