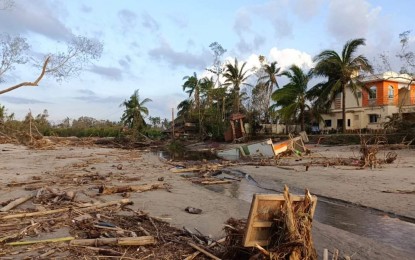 MANILA – The Catholic Church has designated Dec. 25 and 26 as national days of prayer for families affected by Typhoon Odette.
The Catholic Bishops' Conference of the Philippines (CBCP) news website on Monday reported that its president, Caloocan Bishop Pablo Virgilio David, urged dioceses to dedicate the Christmas weekend to pray for the recovery of areas in Visayas and Mindanao that were ravaged by the typhoon.
Aside from offering prayers, parishes are asked to hold a second collection in all Masses on the said days for the victims of the typhoon.
He added that the "Alay Kapwa Solidarity Fund" will be used for the collective emergency response of the Catholic Church.
"We encourage everyone to remit all collections to Caritas Philippines that will then plan and implement our overall response," David said.
"May this season of giving offer us more opportunities to do consistent acts of Alay Kapwa (offering of oneself)," he added.
Around 10 dioceses in the Visayas and Mindanao regions were heavily affected by the typhoon.
Meanwhile, Pope Francis asked for prayers and assistance for the victims of the typhoon.
"I express my closeness to the people of the Philippines hit by a strong typhoon, which has destroyed many homes," said the pope, according to CBCP news website.
"May the Santo Niño [de Cebú] bring consolation and hope to the families most in need; and may he inspire all of us to give concrete help. The first concrete help is prayer, and other aids," he added. (PNA)