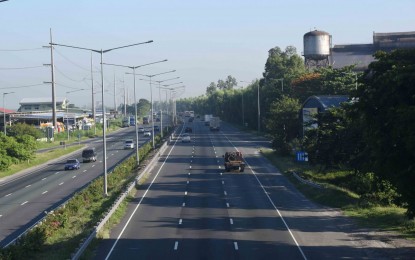 CITY OF SAN FERNANDO, Pampanga – Tollway operator NLEX Corp. is gearing up for the expected increase in traffic volume this Christmas season.
The firm's president and general manager, J. Luigi L. Bautista, said in a statement on Monday that from Dec. 20, 2021 to Jan. 3, 2022, they will beef up their operations along the North Luzon Expressway (NLEX) and Subic-Clark-Tarlac Expressway (SCTEX) as part of their "Safe Trip Mo, Sagot Ko" motorist assistance program.
Bautista said some 1,200 patrol crews, traffic marshals, security teams, and toll lane personnel will be fielded to assist motorists and ensure efficient traffic flow.
Traffic management teams will closely monitor Balintawak, Mindanao, Karuhatan, Bocaue, San Simon, San Fernando, Tarlac, and Tipo as a high volume of vehicles is anticipated in those areas.
Emergency medical services and incident response teams will be prepositioned at strategic areas for immediate deployment, Bautista noted.
During the said period, construction and lane closures along the mainline road of the NLEX-SCTEX will also be suspended unless safety repairs are necessary.
From 6 a.m. of December 24 to 6 a.m. of December 27 and from 6 a.m. of January 1 to 6 a.m. of January 3, free towing to the nearest exit will be available to those traveling with Class 1 or light vehicles.
Bautista encouraged motorists to use radio frequency identification (RFID) for faster and safer transactions.
"Those who have no RFID sticker may have it installed for free in any of the Easytrip installation sites and just have to pay the initial load," he said.
Meanwhile, existing RFID users are advised to ensure that they have enough load, while those having concerns should have their sticker checked at the nearest Easytrip station.
Bautista likewise reminded motorists paying in cash to always take the rightmost lanes at the toll plazas and observe courtesy by not skipping the line.
"Traffic advisories will be relayed to motorists via regular updates on NLEX Corporation's social media accounts," he added. (PNA)