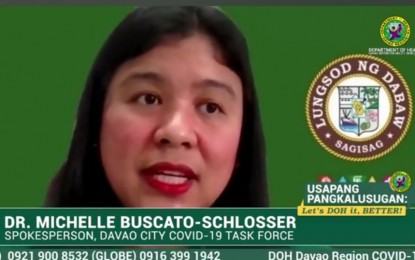 DAVAO CITY – The Davao City Task Force on the coronavirus disease 2019 (Covid-19) on Tuesday reminded Dabawenyos to remain vigilant and continue working together against the deadly disease even as the city reported no new Covid-19 cases over the weekend.
For the second time since March 2020, no new Covid-19 cases were logged here on December 19.
"Our goal is to heal as one. We really need each other to maximize our protection against Covid-19," Davao City Task Force Covid-19 spokesperson Dr. Michelle Schlosser said in a statement through the City Information Office.
She attributed this milestone to the management of the Covid-19 response and to the "multifactorial contribution of all the players in managing Covid-19".
"Through them, we were able to hit the latest tally of 92.5 percent coverage to reach the herd immunity for the first dose and 82.15 percent for fully vaccinated," Schlosser said.
She added that education and information campaigns play a major role in the success of the city's Covid-19 management and response.
Schlosser thanked the leadership of Mayor Sara Z. Duterte, who chairs the Davao City Task Force Covid-19; Vice Mayor Sebastian Duterte; city councilors; barangay leaders; the city's health care workers; and volunteers from both public and private sectors for contributing and cooperating with the city's strategies to contain the spread of the infection.
Schlosser earlier bared that the city had just hit its lowest Covid-19 positivity rate since March 2020, at 0.5 percent.
"We are happy since our Covid-19 cases have remained low. Our positivity rate is also low and we don't have any case of new variant," Schlosser added.
She also urged the Dabawenyos to continue adhering to the minimum public health standards, such as the regular wearing of face masks, social distancing, proper hand hygiene, and getting themselves vaccinated as ways to protect them from the coronavirus. (PNA)