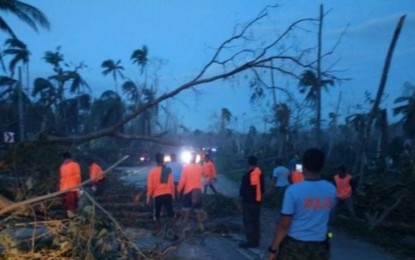 MANILA – Canada, Hungary, the United Kingdom, and New Zealand have pledged to provide over PHP187.9 million to assist provinces hit hard by the onslaught of Typhoon Odette.
On top of this, several countries like China, the United States, Japan, Israel, and Australia allocated in-kind goods for immediate deployment to the affected families.
World leaders also sent their condolences to the bereaved families of those who perished in the aftermath of the super typhoon.
Canadian Prime Minister Justin Trudeau said Ottawa is providing financial assistance through the Red Cross, which should help address the urgent need for water and sanitation on the ground.
"My heart goes out to the people of the Philippines, whose lives have been forever changed by last week's super typhoon. Canadians are sending our deepest condolences to those who lost loved ones - and we'll keep everyone affected in our thoughts during this challenging time," he said in a statement on Tuesday.
"In the days and weeks ahead, we'll continue to help those who need it most," he added.
Canadian Minister for International Development Harjit Sajjan announced that Ottawa will extend up to CAD3 million (approximately PHP118.7 million) in assistance, including CAD500,000 for the urgent Red Cross response.
Russian President Vladimir Putin also sent his sympathies and personally expressed solidarity with the Filipino people.
"Russia shares the grief of those who lost their family members and friends as a result of this natural disaster and wishes a speedy recovery to all those injured," he said.
The United Kingdom has pledged GBP750,000 (approximately PHP49.47 million) to the Philippine Red Cross, which will be coursed through the International Federation of Red Cross and Red Crescent Societies (IFRC) "to help support those in desperate need of assistance".
The New Zealand government, meanwhile, will donate NZD500,000 (approximately PHP16.77 million) to the Philippines to support the IFRC's efforts on the ground.
Hungary is sending HUF20 million (approximately PHP3.05 million) to the typhoon victims and to help restore the damaged churches in Cebu.
"Hungary is sending 20million HUF (EUR54,000) to the victims of a typhoon which hit the Philippines last week, Foreign Minister Péter Szijjártó said on Sunday. The Hungary Embassy in Manila is working together with Caritas Manila, Anton CT Pascual, and (Foreign Affairs Secretary) Teodoro Locsin, Jr. after Typhoon Odette," Hungarian Ambassador to the Philippines Titanilla Tóth said.
Relief on its way
Chinese Ambassador Huang Xilian said about 20,000 food packages worth around PHP8 million are on their way to Cebu, Leyte, Negros Occidental, Bohol, Cagayan de Oro City, Surigao City, Negros Oriental, and other provinces hit by Odette.
At the same time, 4.7 million kilograms of Chinese government-donated rice are already in different Philippine ports, of which 1.5 million kg. are in Cebu and 3.2 million kg. are in Manila for deployment.
"Chinese relief goods on their way to areas devastated by Typhoon Odette. Our hearts go out to all the Filipino families who were devastated by Typhoon Odette which has caused massive casualties as well as property loss," Huang said Tuesday.
"We thank the Philippine government, in particular the Department of Social Welfare and Development for their great efforts in urgently distributing these rice to those Filipino families in need. China will do its utmost to continue its firm support to the disaster relief efforts of the Philippine government and the Filipino people," he added.
The Federation of Filipino Chinese Chamber of Commerce and Industry Inc. (FFCCCII) is likewise contributing a total of PHP12 million through its Filipino Chinese Community Calamity Fund.
The Israeli Embassy in Manila in a text message said Ambassador Ilan Fluss is also flying to Cebu to deliver solar panels, food packs, and hygiene kits to typhoon-affected residents on December 22.
Last week, the United Nations High Commissioner for Refugees (UNHCR), with the support of the Australian government, sent about 1,000 solar lamps, 1,000 mosquito nets, 1,000 plastic tarps, and 200 plastic sheets to augment the government-led relief operations on the ground and help displaced families in the severely affected islands of Siargao and Dinagat.
The United States Agency for International Development (USAID), together with the World Food Programme and the Philippine government, has deployed two mobile operations vehicles for emergency (MOVE) to Surigao and Ormoc to facilitate access to electricity and internet for responders on the ground.
The Japanese Embassy in Manila said Tokyo is also sending disaster relief assistance in the form of generators, camping tents, sleeping pads, portable water containers; and plastic sheets to cover roofs.
"Odette" made landfall last December 16 in Surigao del Norte Province, with maximum sustained winds of 195 kilometers per hour, bringing torrential rains, violent winds, landslides, and storm surges in several areas in Visayas and Mindanao, including Cebu, Palawan, Bohol, Siargao, and Dinagat Islands.
In its aftermath, 12 cities and municipalities were placed under a state of calamity. A total of 227 areas also experienced power interruption/outage, of which only 21 have so far been restored. (PNA)