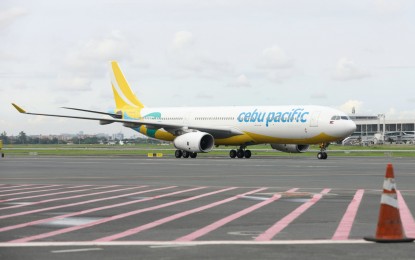 MANILA – As Cebu and Siargao were greatly damaged by Typhoon Odette last week, an executive of a regional airline said mounting of flights will depend on wind condition and they can only accommodate relief distribution teams.
A notice to airmen (NOTAM) was issued to the Surigao and Siargao airports, canceling all commercial flights.
Both will only accommodate relief, humanitarian, and government flights.
"CEB (Cebu Pacific) ticket holders remain our priority. Siargao Airport, however, has suspended operations for commercial travel until February 2022. Right now, we have very limited capacity for the passengers we can board and this is due to technical and aircraft capability because wind condition is also a factor in aircraft capacity. So, flights will always depend on the weather and wind condition," airline spokesperson Carmina Romero said in a public briefing on Tuesday.
Humanitarian flights include carrying stranded individuals to Manila, Romero added.
"If passengers would notice, there were empty seats. Those are for weight and balance. We are very conservative, and we are aiming for safety. It's not that we don't want to accommodate passengers. Today, we were able to accommodate 65 passengers with bags. We assess based on the weather condition and wind strength," she said.
Mounting more flights, Romero said, will also depend on the airport situation.
She cited for instance that Mactan-Cebu International Airport in Cebu province, which is also under a state of calamity, has resumed operations but only for limited domestic flights.
Romero also clarified that canceling flights from Dubai, United Arab Emirates to Cebu was not the airline's initiative.
"Cebu is currently experiencing a shortage in (quarantine) hotel rooms, which is part of the arrival protocols. Because of that, Cebu only accommodates limited international arrivals," she said.
Around 600 Cebu Pacific employees based in Cebu were also affected by the typhoon. They were provided with assistance, such as basic needs food and water.
An augmentation team was sent to man the counters so flight operations can continue in Cebu.
Romero said the estimated 25,000 CEB passengers affected by cancellations may opt to refund, rebook, or place the ticket value into a travel fund for future use.
Those who want to postpone travel even if their flights were not canceled can rebook or avail of the travel fund option. (PNA)