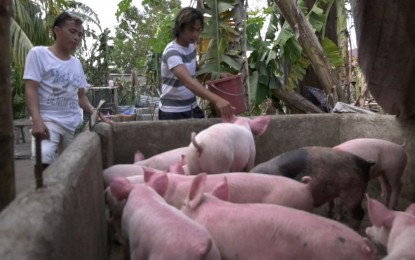 MANILA – A family's dream of having a bountiful Christmas with more than enough food on their table is now a reality, thanks to the Balik Probinsya, Bagong Pag-asa (BP2) Program of the national government.
BP2 beneficiary Von Cubilla no longer needs to ask for loans from friends as they can now afford to celebrate Noche Buena without worrying about where to get the money.
"Dati po inuutang pa po namin yun, inuutang ko po para magkaron lang ng Noche Buena sa pasko, sa new year yung pamilya ko (Before we had to ask for a loan so we could have something for Noche Buena for Christmas, for the new year)," the 32-year-old Cubilla from Tanauan, Leyte said on Monday in an interview with the Philippine News Agency (PNA) team who went to his hometown.

Cubilla now has pigs, goats, cows, and carabaos that he trades and gives him a daily earning of about PHP10,000.
He used the financial assistance availed from the BP2 program as his business capital.
"Lahat, bigay sa akin ng DOLE (Department of Labor and Employment), sako ng bigas sa DSWD (Department of Social Welfare and Development), cash, tapos dun bago kami umalis pocket money, yung mga binigay sa kin yun ang ginawa ko pong puhunan dito namili ako ng baboy hanggang ngayon lumago na yung hanapbuhay namin (Everything has been given to me by DOLE, DSWD sack of rice, the cash, then the pocket money before we left, I used them as my capital here, I bought pigs, and now, our business has grown)," he said.
If not for the BP2 program, Cubilla said that he could still be in Manila right now, struggling to survive.
Cubilla expressed his gratitude to Senator Christopher Lawrence "Bong" Go and to President Rodrigo Duterte for the program, which helped him achieve his dream and provide for his wife and daughter, he left back home.
Learning about BP2
Cubilla recalled the day he learned about the BP2 program on TV, and got so excited and applied immediately.
Because of the health threats of the coronavirus disease 2019 (Covid-19) pandemic, the community was placed under quarantine, and at the same time, like many others, he too lost his job.
"Nung nabalitaan ko yun nagka-Covid, nawalan ng hanapbuhay, yun kaagad (naisip ko) na ito na siguro yung makakapagpabago (ng buhay) kasi dun siksikan sa Maynila (I learned about it at height of Covid-19, many lost their jobs, and I thought, this will change my life, it was so crowded in Manila)," he said.
He applied for BP2 in early May this year and on the 21st of the same month, he was already on his way back to his hometown.
Cubilla said that he went to Manila to try his luck but after nine years of staying in the city, transferring from one relative's house to another, his earning was just only from PHP200 to PHP400 per day working as an electrician.
More often than not, his salary was not enough that he needed to borrow money or loan the food that he would eat from the sari-sari store.
Cubilla said that it was his dream to go into buy and sell of livestock, one he shared when he was interviewed by the BP2 staff.
"Dati nakakabili ako ng baboy mga dalawa, tatlo, ngayon marami na, bumili ako ng 80 piraso na pang litson ba (Initially, I bought two up to three pigs then I was able to buy 80 pigs to be roasted, that's what I do now)," he said.
No place like home
"Pag uwi ko dito yun talaga yung pinangarap ko nung una (bumili)nlang ako ng isang baboy, yung pagkain po, tas bibenta ko yung karne, per kilo, hanggang naisipan ko na medyo (mauubos) na yung puhunan ko, gusto ko bumili ng mga buhay na lang tas ibebenta sa mga palengke hanggang natuto na, mas maganda yung kita, tinuloy tuloy ko hanggang sa ngayon (When I went home that was only my dream, to buy one pig, for our food, then I will sell the meat per kilo, until I decided to buy live pigs which I sell in the market, until I learned the trade and continued until today)," Cubilla said.
With the improvement of his financial circumstances, he encourages his friends and relatives still in Manila to avail themselves of the BP2 program, which is an initiative of the national government created to address the congestion in Metro Manila's urban areas.
The program encourages the public, especially those in informal settlements, to return to their home provinces and guide them throughout this transition by providing additional support and incentives on transportation, livelihood, family needs, subsistence, education, housing, and others
Cubilla recalled how he took his chance in the city but now he realized that there is no place like home and that life is much better in the province, especially since he received support from the government. (PNA)