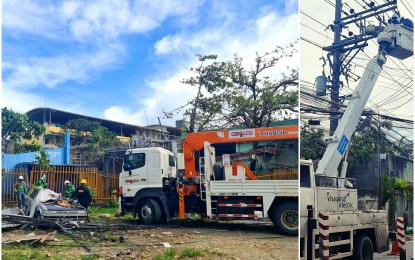 CEBU CITY – Telecommunication services in Cebu province remain to be very erratic five days after Typhoon Odette, leaving poor connectivity from existing cell sites.
Kenneth Cobonpue, chair of the Regional Development Council (RDC) 7 (Central Visayas), said a "big factor hindering full reactivation of telco services remains to be the lack of adequate power supply and fallen debris preventing the telco personnel from accessing certain cell sites."
"It is hoped that as power supply resumes and more roads are cleared, this will enable the telco companies to expedite further the full resumption of mobile services in all areas of Cebu in the coming days or weeks," Cobonpue told the Philippine News Agency (PNA) in a Viber message.
He said PLDT and Smart reported that as of 2 p.m. on December 21, only 49 percent of wireless 4G subscribers have been activated, while 69 percent of PLDT DSL connections are still down until now.
However, he said, progress has been achieved concerning Smart wireless 3G connections, with 63 percent now reactivated, while 77 percent of PLDT Fiber-to-the-Home (FTTH) connections are already available.
To help expedite the reactivation of their mobile services, Cobonpue said PLDT has flown in additional reinforcement teams and satellite equipment from Manila to provide additional support for some areas in Cebu with severely damaged equipment.
The RDC-7 chair said Globe Telecom is also providing free Wi-FI connections in select malls and government offices.
Power update
Cobonpue said several areas in Cebu are slowly being reenergized with alternative power sources of power and supplied through the National Grid Corp. of the Philippines (NGCP).
In northern Cebu, 10 areas have been energized by the Cebu Electric Cooperative II, while the Visayan Electric Company (VECO) has reenergized 64 out of 544 power line segments, providing power to 2,484 units in Cebu, of which 2,190 are residences and the rest are establishments.
The Project Balik Buhay, a private sector initiative organized in 2020 during the onset of the coronavirus disease 2019 (Covid-19) pandemic, commended the Aboitiz Power for sending additional reinforcement teams from the Cotabato Light and Power Company on top of the reinforcement teams from the Manila Electric Company (Meralco) and the Cagayan Electric Power and Light Co. (Cepalco).
The reinforcement teams were deployed to help augment the already exhausted teams from VECO that have been working non-stop since Friday to expedite the repair and reconnection of the damaged electric posts.
Airport service back
The Mactan Electric Company has repaired several damaged electric posts and energized some substations in Mactan Island, including the airport substation, with Terminal 1 of the Mactan Cebu International Airport now starting to receive power supply.
Although power is back to energize Terminal 1, Cobonpue said not all equipment is fully functioning just yet, including the air-conditioning units.
"Similarly, as Internet connection resumes, PAL (Philippine Airlines), Cebu Pacific, and Air Asia check-in systems have now been reactivated. Unfortunately, while some Wi-Fi connection in the airport has slowly recovered, speed is sometimes affected by the deluge of usage by many of the waiting passengers," he added.
He said international arrivals are scheduled to partially resume by Thursday, but with certain restrictions as the volume of passengers would need to be managed to avoid crowding at the airport.
The availability of hotel rooms is also put into consideration in the resumption of flights in Cebu.
However, international departures already commenced on Tuesday, Cobonpue said.
In its advisory as of noon Wednesday, VECO said it has energized 4,175 out of the 474,182 affected clients, and restored 93 or 17.1 percent out of the 544 power line segments, within its franchise area.
"Restoration is taking longer in areas where Visayan Electric's distribution facilities sustained heavy damage, such as toppled poles, downed wires, and damaged transformers. Our linemen from Visayan Electric, together with the engineers and crews from various distribution utilities from all over the country, have been working round the clock to clear lines and restore power at the soonest and safest time," the advisory read.
The power distribution firm covering Metro Cebu asked for continued "patience in these trying times" from the consumers.
Fuel woes solved
Governor Gwendolyn Garcia has ordered that fuel be loaded directly to vehicle tanks effective Wednesday to prevent people here from hoarding, as many are scrambling to source the commodity.
Establishments and residential houses that have generators will be exempted.
This measure intends to stop hoarding, reselling, or black-marketing of fuel here, after the onslaught of "Odette".
Garcia on Tuesday met with Cebu City Mayor Michael Rama, representatives of major oil companies such as Shell and Petron, Topline, independent tankers, and the Cebu Contractors Association at the Capitol to address fuel woes in the aftermath of the typhoon.
Long lines at gas stations have been observed around the province and Metro Cebu, which have resulted in heavy traffic.
Garcia issued an executive order on the matter while Rama is also expected to issue a directive to gas stations in Cebu City.
They agreed that hotels and major establishments could buy up to 200 liters of fuel for their generator sets but they must present their business permits. For residential houses that have generator sets, owners could load up to 10 liters of fuel in containers, provided they show pictures of their units as proof.
During the meeting, representatives of Shell and Petron disclosed that their biggest challenge is the delivery of fuel from their depots to the gas stations.
Shell said they have 19 gasoline stations operating in Metro Cebu, while 22 are waiting for fuel to be delivered. Petron has 18 gasoline stations that are operating and five gasoline stations that are still trying to purchase generator sets.
Garcia said if the five gasoline stations fail to acquire one, the provincial government could lend as it is expecting generator sets to arrive from Batangas on Friday.
She also asked the two fuel companies to consider tapping independent tankers, apart from their accredited tankers, to deliver fuel from their respective depots to their gas stations.
Garcia also brought up the issue of fuel cost hikes in the past few days.
The two major players, however, told her that they already imposed a price freeze.
To avoid overpricing of fuels, Garcia and Rama agreed to issue an in-sync executive order to stop gas stations from selling beyond the price range.
Shell and Petron advised the public to report gasoline stations that are selling fuel beyond the price range. (PNA)