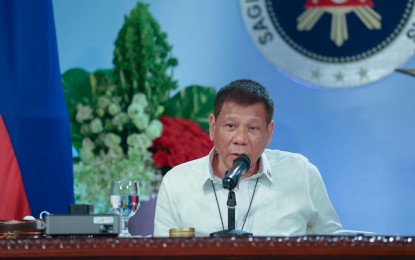 MANILA – President Rodrigo Roa Duterte on Tuesday admitted that he was worried about the possibility of the Omicron variant of Covid-19 causing another surge in infections, noting that government funds were depleted.
He made this statement after Health Secretary Francisco Duque III said his department has recorded at least three imported Omicron cases in the Philippines.
"Ang ano ko lang is kung (My only concern is if) it would be as bad as the previous viruses already nandito, medyo natatakot lang ako. You know, somehow kinakabahan ako kasi (here, I'm just fearful. You know, I'm nervous because) --- let me be frank to the public, depleted na 'yung pera talaga ng Pilipinas (the Philippine funds are depleted), even coping up with the growing expenses for the typhoon victims," he said in his regular Talk to the People.
He, however, said he is also optimistic about using funds from the country's 2022 national budget.
"Ni-walis nga kung ano pang matira, ubusin na lang (It got swept, whatever's left we'll just use it) and we might get more funds," he added
In a Palace press briefing on Wednesday, Acting Presidential Spokesperson and Cabinet Secretary Karlo Nograles clarified that the government still has money to spend for both Typhoon Odette and the Covid-19 response.
He explained that Duterte had even committed to raising PHP10 billion for the victims of the typhoon.
"Yes, we have money, and the President already directed, number one 'yong sa PHP10 billion nga na kinakailangan (number one is the PHP10 billion that we need), of course, it would not stop there," he said.
Nograles emphasized that Duterte's statement was merely to inform the public that looking for funds is "not an easy task" and assured that the government is doing everything it can to provide necessary assistance to typhoon-hit provinces.
"If you listen to the speeches of the President that's what he says, we spent so much for efforts against Covid, we spent so much for vaccines, and ito meron na namang (and there's a new) challenge, itong (this) Typhoon Odette. But we in the government, in his administration will look for all ways and means to address all of the challenges, all of the concerns, lahat ng mga pangangailangan ng ating mga kababayan (all the needs of our fellow Filipinos)," he added.
Keep wearing face shields
Duterte enjoined the public to keep using their face shields on top of their face masks, even if they were no longer mandatory in areas under Alert Level 2.
"Sa totoo lang (Honestly), I think, the compliance of our citizens in the matter of strictly enforcing the masks, one. And when somebody --- while it might be not really a well-studied proposition but I would dare say that that shield will add another layer of protection in addition to the [masks]," he said.
He said he "firmly believed" that face shields helped lower the number of Covid-19 cases in the country.
"I really firmly believe that the wearing of that face shield has contributed a lot. I cannot quantify or by what percentage but it's just a gut feeling na 'yung kasi tayo --- mababa na tayo ngayon (we only have a few cases now)," he added.
The National Task Force (NTF) Against Covid-19 earlier said it is eyeing the reimplementation of the mandatory face shield policy to help fight the spread of new Covid-19 variants.
On November 15, Duterte lifted the mandatory use of face shields and only making them voluntary in areas under Alert Level 1 to 3.
The face shield policy is left to the discretion of local government units (LGUs) and private establishments in areas under Alert Level 4.
Only areas under Alert Level 5 and closed, crowded, and close contact (3Cs) such as hospitals and other medical facilities, are required to use face shields. (PNA)