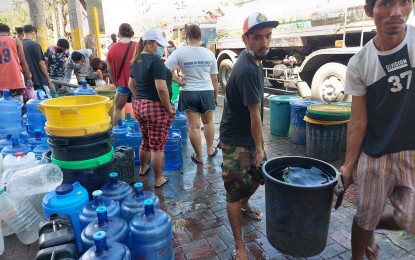 CEBU CITY – Typhoon victims should continue observing proper hygiene and sanitation despite the scarcity of resources such as water to prevent an outbreak of diseases, an official of the Department of Health (DOH) in Region 7 on Thursday said.
Dr. Mary Jean Loreche, DOH-7 chief pathologist, said pumping and water refilling stations have supply problems as power lines have yet to be restored after being damaged by the typhoon.
She said the community needs to watch out for diseases that could crop up, especially in evacuation areas where families are jam-packed in closed areas.
The people, she said, should be mindful of water-borne illnesses such as diarrhea and other diseases such as flu and flu-like symptoms brought about by the weather condition. These include measles, leptospirosis, and rabies that can be acquired from bites of stray dogs.
"These are trying times really. Water is a very vital, basic necessity, and its scarcity will put to the test the observance of proper hygiene and sanitation," Loreche said in a Viber message sent to the Philippine News Agency.
Loreche said the people can also recycle water, suggesting that "water for hand-washing and even bathing itself or water used to wash clothes can be used for cleaning the toilet."
He said water from sources not being processed by refilling stations certified by the Department of Sciences and Technology (DOST) and from water districts but have not been chlorinated can still be boiled and used for drinking. "Let it stay for more than 10 minutes at least from boiling point," she said.
She also said typhoon victims who feel sick should consult a doctor.
Loreche's comment came as the power transmission and distribution companies race against time to restore lines to reenergize water pumping and refilling stations in the region.
Meanwhile, the regional pathologist also reminded the people in Central Visayas that coronavirus disease 2019 (Covid-19) "is still very much with us" even though the cases are low in many localities.
"For now, the key to preventing a surge would be our mindfulness, vigilance, and the continued observance of the minimum public health measures," Loreche said.
She also said that the target timeline to achieve population protection is also affected in areas of the region badly hit by "Odette".
Loreche said the local government units are now focusing their resources and personnel for restoration and recovery, especially in badly-hit areas.
"But soonest electricity is restored and the basic needs of our people are addressed, then we will once again encourage those unvaccinated (individuals) and those for booster shots to get that Covid-19 jab," she said. (PNA)