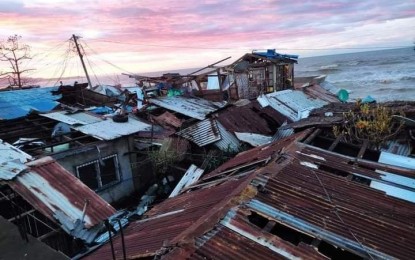 LEGAZPI CITY – The medical support teams deployed by the Department of Health (DOH) in Bicol (Region 5) arrived in Eastern Visayas on Thursday to help victims of Typhoon Odette.
In a statement on Friday, the DOH-Center for Health Development in Bicol (DOH-CHD5) said the two medical teams from the Bicol Medical Center with 22 members consist of doctors (surgeon and internal medicine), nurses, psychiatric nurses, cooks, and drivers.
"They will provide free hospital and medical care to the victims of Typhoon Odette such as free consultations, first-aid, medical and surgical response, psychosocial debriefing, and mental health and psychosocial support (MPHSS)," the statement said.
The teams went straight to the DOH in Eastern Visayas (Region 8), which will give them the assignments where to go.
The medical teams will stay in the region until Jan. 5, 2022.
Meanwhile, the Department of Social Welfare Development (DSWD) in Bicol has allocated a total of 11,000 Family Food Packs (FFPs) as relief augmentation to the survivors of the typhoon in Southern Leyte.
"A box of FFP is enough to feed a family with five members for two days. Each FFP contains six kilograms of rice, ten canned goods, five sachets of instant coffee, and five sachets of cereal drink," DSWD Bicol said in a statement.
Depending on the availability of supply, canned goods may differ but usually each box contains sardines, corned beef, and corned tuna.
Aside from FFPs, DSWD-Bicol has enough supplies to provide additional Non-food Items (NFIs) such as hygiene kits, kitchen kits, family kits, sleeping kits, and laminated sacks should DSWD Region 8 require NFI augmentation.
These supplies will be distributed to families in evacuation centers and those with partially or damaged houses.
DSWD-Bicol added that the field office is also preparing a team for possible deployment in typhoon-affected communities.
The team will be composed of DSWD-Bicol staff trained in Psychological First Aid and Camp Coordination and Camp Management to help survivors cope with the physical and psychological impacts of the disaster.
The Rapid Emergency Telecommunication team of Region 5 will also be deployed in Region 7 (Central Visayas) to help re-establish the communication network. (PNA)