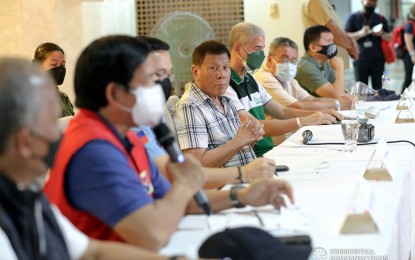 MANILA – President Rodrigo Duterte is wishing the Christmas celebration would inspire Filipinos to realize their dreams and aspirations for the country.
"May the light that this season brings fill us with hope and courage as we continue to recover from the Covid-19 pandemic," Duterte said in his taped Christmas Eve message on Friday. "We have been blessed much by the birth of Christ. Let us share this blessing with others. Maligayang Pasko sa ating lahat (Merry Christmas to all of us)."
In a separate statement, he called on Filipinos to have "stronger faith and hope" as the nation continues to recover from the effects of Typhoon Odette and the Covid-19 pandemic.
"May we all be united in spreading love, compassion, and happiness to our families and friends, and even those whom we need to reach out to," he said.
With Christmas being a "time for peace", he urged Filipinos to help one another heal and rebuild their lives.
"This will lead us to open our hearts and our homes, especially for those who are most in need so that they, too, may have joy and hope while we all work together towards better days ahead," he said. (PNA)