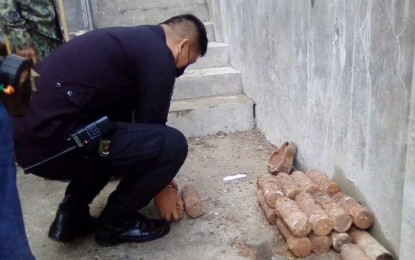 ZAMBOANGA CITY – Twenty-nine pieces of unexploded ordnance were dug up on two separate occasions this week at the same construction site in Barangay Cabatangan this city.
The recovered ordnance is classified as 75-mm. high explosive anti-tank ammunition.
The discovery of the explosive devices prompted Lt. Mary Agnes Miro, Zamboanga City Police Office information officer, on Saturday to advise homeowners and construction workers to be cautious while building a house or digging on their property.
Construction worker Alex Glinogo, 52, first discovered 22 pieces of unexploded ordnance on December 20. Glinogo is one of the workers hired by Rodolfo Dua to build an extension of his house.
On December 23, the second discovery was made, involving seven unexploded bombs in the same construction site.
"(This) ordnance might explode when unproperly handled," Staff Sergeant Anthony Memoracion, an explosive ordnance demolition (EOD) policeman, said when the second batch was unearthed.
Dua disclosed that they have unearthed more than a dozen units of unexploded ordnance since he constructed his house two years ago.
Miro advised Dua to immediately coordinate with the police as more unexploded bombs might be discovered as the construction work continues.
The 29 pieces of recovered ordnance were placed under the custody of the EOD for proper disposition. (PNA)