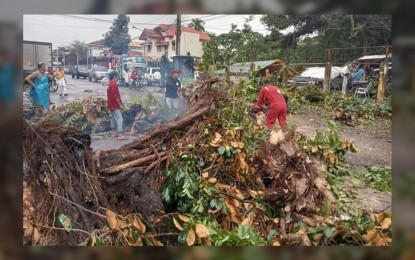 BACOLOD CITY – The city government here is set to grant financial assistance to owners of 9,054 houses damaged during the onslaught of Typhoon Odette on December 16.
Data of the City Disaster Risk Reduction and Management Office (CDRRMO) as of December 28 showed some 745 houses were wrecked while 8,309 others were partially damaged in 57 out of 61 barangays.
Mayor Evelio Leonardia said in a statement on Wednesday despite the destruction in properties, the city did not record death or injury even as "Odette" battered Bacolod and the majority of the southern towns and cities in Negros Occidental.
"This can be attributed to the local government unit's readiness and implementation of preemptive evacuation," he added.
A financial aid of PHP10,000 each will be given to families with totally damaged houses while either PHP5,000 or PHP2,000 each, depending on assessment, to those with partially damaged dwellings.
Dr. Anna Maria Laarni Pornan, head of the CDRRMO, said her office's post-typhoon update, as well as the report of the city's Department of Social Services and Development, were the basis of the City Council's approval of the declaration of state calamity in Bacolod through Resolution 722.
In Presidential Proclamation 1267, President Rodrigo Duterte declared a state of calamity in Western Visayas, which also includes Bacolod.
As part of its preparation, Bacolod, which was placed under Tropical Cyclone Wind Signal No. 3, the city government-enforced preemptive evacuation, focusing on residents living in high-risk and critical areas.
Some 5,639 individuals or 1,350 families from 33 barangays were evacuated.
The CDRRMO identified 15 areas of concern and 25 schools with more than 300 classrooms that served as evacuation centers.
"It is the first time the city had implemented pre-emptive evacuation involving such big number of individuals and it saved the lives of many Bacolodnons," Leonardia said.
Typhoon Odette's devastation also left hundreds of uprooted trees and toppled electrical posts and power lines, rendering major and secondary thoroughfares and barangay roads impassable and cutting off the power supply in the entire city for at least two days. (PNA)