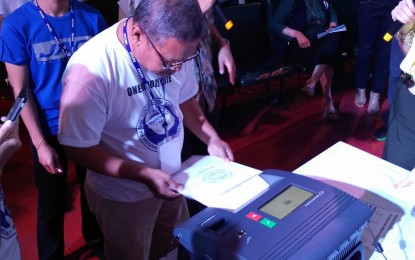 MANILA – The Philippine National Police (PNP) said Wednesday its personnel have assisted the Commission on Elections (Comelec) in the conduct of mock polls, allowing them to observe the actual process flow for the May 2022 elections.
PNP Chief, Gen. Dionardo Carlos, said PNP personnel in the provinces of Albay, Negros Oriental, Leyte, Isabela, and Lanao del Sur, as well as the cities of Pasay and Taguig and the lone municipality of Pateros in Metro Manila, have coordinated with the local Comelec offices to establish their scope of responsibility.
"This will be an important pre-election activity to determine the flow of process and the observance of the guidelines, including the restrictions that our PNP personnel should be made aware of during the election day," Carlos said in a statement.
He noted that the upcoming polls would be a challenging one as adhering to health protocols is a priority, given the current pandemic threat.
"We are duty-bound to monitor if the public is following the minimum public health standard, so this is an aspect that we'd like to focus on, as soon as the voters start trooping (to) various polling places," Carlos said.
The mock election, he said, could be the benchmark for the PNP's assessment and planning for the 2022 national and local elections.
Under the Omnibus Election Code, PNP personnel are not allowed to get inside the different voting precincts but are assigned to maintain peace and order in the vicinity.
The PNP will also be tasked to secure the transportation of ballots and other election paraphernalia.
The mock polls held in several places in Luzon, Visayas, and Mindanao, would be an end-to-end demonstration of the whole process.
For Luzon, the areas are Isabela, Cauayan City, barangays District 1 (Poblacion), Minante 1; Cordon, Magsaysay and Gayong, Albay; Legazpi City, Kawit East (Barangay 16), Ilawod West (Barangay 13) and Piodoran, Banawan and Caratagan.
In the Visayas – Negros Oriental, Dumaguete City, barangays Taclobo and Balogo; Zamboanguita, Poblacion and Mayabon, Leyte, Tacloban, barangays 6 and 6-A; Baybay City, POB Zone 11 and Gaas; Palompon, Ipil II and San Juan.
For Mindanao, the provinces are Maguindanao, Cotabato City, barangays Rosary Heights 2 and Tamontaka I; Sharif Aguak, Mother Poblacion and Poblacion 1; Buluan, Poblacion and Dical. Davao del Sur, Digos City, Barangay Zone 3 and San Miguel; Sulop, Poblacion and Talas. (PNA)