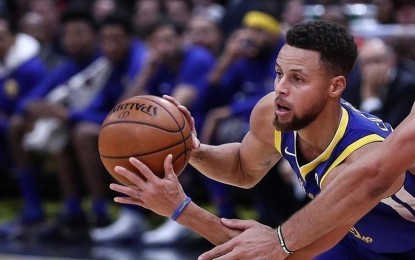 ANKARA – Stephen Curry became the first player in NBA history to hit 3,000 career threes late Tuesday while the Denver Nuggets sealed an 89-86 win over the Golden State Warriors.
The Nuggets built a 24-point advantage at the end of the first half. But, the Warriors came back and tied the game 84-84 with 1:04 left.
Nikola Jokic blocked Jonathan Kuminga's potential game-tying shot and Andre Iguodala failed to score a three-pointer at the buzzer while the Nuggets secured their 16th win of the season.
Jokic led the Nuggets with 22 points, 18 rebounds, five assists, and four steals, while Will Barton finished with 21 points.
Andrew Wiggins finished with 21 points and eight rebounds, and Curry scored 23 points for the Warriors that played without Draymond Green, Jordan Poole, Damion Lee, and Moses Moody due to NBA's health and safety protocols.
The Western Conference leader Warriors dropped to a 27-7 win-loss record.
LeBron becomes 3rd player to score more than 36,000 points
The Los Angeles Lakers beat the Houston Rockets 132-123, while LeBron James became the third player in NBA history to score more than 36,000 points, behind Karl Malone and Kareem Abdul-Jabbar at the list.
James recorded a triple-double with 32 points, 11 rebounds, and 11 assists as Westbrook finished with 24 points, 12 rebounds, and 10 assists.
Jalen Green scored 24 points while Kevin Porter Jr. and Christian Wood both added 22 for the losing side.
The Lakers are in the seventh spot in the Western Conference standings with 17 wins and 18 losses.
Other results: Orlando Magic - Milwaukee Bucks: 110-127; Miami Heat - Washington Wizards: 119-112; Toronto Raptors - Philadelphia 76ers: 109-114; Minnesota Timberwolves - New York Knicks: 88-96; New Orleans Pelicans - Cleveland Cavaliers: 108-104; and Sacramento Kings - Oklahoma City Thunder: 117-111. (Anadolu)