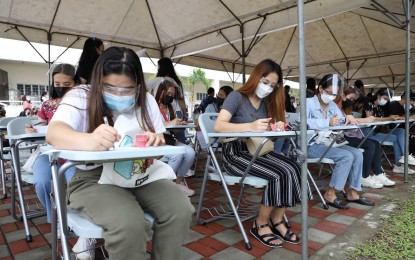 MANILA – Getting more students, teaching and non-teaching personnel fully vaccinated against the coronavirus is one of the key factors to the expansion of limited in-person classes in higher education institution (HEIs) nationwide.
Armed with this goal, the Commission on Higher Education (CHED) pushed for an intensified school-based vaccination in the last quarter of this year as more students return to classrooms.
The commission's efforts were not put in vain as vaccination among HEI students and personnel continue to scale up toward the new year.
As of December 29, about 87.1 percent or 255,229 out of 293,058 teaching and non-teaching employees in HEIs nationwide have been vaccinated.
"This is a significant increase from the 72 percent vaccination rate at the start of the aggressive vaccination campaign in October 2021," CHED Chair J. Prospero de Vera III said.
The regions with the most number of vaccinated HEI personnel are Cordillera Administrative Region (CAR) with 95.24 percent or 7,940 out of the total 8,337 personnel; Region 3 with 94.08 percent or 24,831 out of 26,393; Region 2 with 93.78 percent or 8,604 out of 9,175, and Region 11 with 92.16 percent or 11,542 out of 12,524 HEI personnel.
Meantime, the vaccination rate among students jumped to 59.7 percent from 46 percent in October. This is equivalent to 2,456,667 out of 4,115,988 students.
Of the 2,456,667, 43.21 percent are fully vaccinated while 16.42 percent have received their first dose of Covid-19 jabs.
The regions with the most number of vaccinated students are Region 9 with 85.38 percent or 123,897 out of the total number of 145,113 students; Region 3 with 81.12 percent or 321,946 out of 396,866; and CAR with 75.65 percent or 84,436 out of 111,617 students.
"The Commission is happy to report that in many regions of the country, the vaccination rate of our education front-liners have reached herd immunity levels ensuring not only their availability to join face-to-face classes but more importantly, they are helping protect their families and communities from the rapid spread of the Covid-19 virus," de Vera said.
The CHED initiated the school-based vaccination drive together with the Department of Health (DOH), the National Task Force (NTF) Against Covid-19, local government units, and partner HEIs.
On November 16, the Inter-Agency Task Force for the Management of Emerging Infectious Diseases (IATF-EID) has approved the CHED's recommendation to carry out the phased implementation of in-person classes in HEIs.
In IATF-EID's Resolution 148-G, the proposed resumption of limited in-person classes for all degree programs following the phased and nationwide implementation of Alert Levels System for Covid-19.
Areas placed under Alert Levels 1, 2 and 3 are allowed to conduct limited in-person classes subject to certain conditions.
Apart from having fully vaccinated teaching and non-teaching personnel, HEIs must ensure their classroom capacity is only at 50 percent and secure approval from their concerned local government units.
The Phase 1 of limited in-person classes started this month where HEIs in areas under Alert Level 2 have for the resumption of physical classes. Phase 2 will begin in January 2022 onwards.
Free college education beneficiaries
In 2022, over 1.6 million students will be graduating from 200 HEIs that participated in the provision of free college education through the Universal Access to Quality Tertiary Education Act (UAQTEA) or Republic Act 10931.
The UAQTEA, which was signed into law by President Rodrigo Duterte four years ago, promotes quality college education by providing free tuition in state universities and colleges, local universities and colleges, and state-run technical-vocational institutions.
It also establishes the tertiary education subsidy and student loan program and strengthens the unified student loan program and financial assistance system for tertiary education.
The first component of the UAQTEA is the free tuition and miscellaneous fees and the second component is Tertiary Education Subsidy (TES) which is given to 4Ps families who belong to the 2.0 list of the Department of Social Welfare and Development.
"The first one is access because there is financial need, the second one is access because of geographic distance to public universities. And the last batch, a student loan program for students who still need financial assistance, we have the TES loan program in universities right now," de Vera said.
The loan program targets the students who are children of overseas Filipino workers who are unable to pay for academic expenses on time because they are still waiting for remittances.
"If you pay your loan within the school year, free interest, zero interest. So, the TES is now enjoyed by close to half a million Filipinos, many in public schools but also in private universities," de Vera said.
As the Duterte administration nears its end, de Vera said one of the best investments it made was to provide the means for the young people to become highly educated individuals in 10 to 15 years. (PNA)