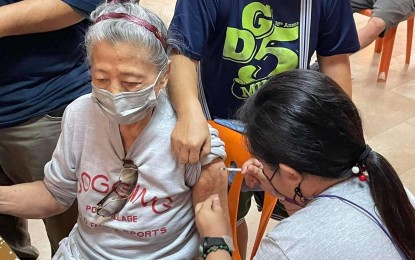 MANILA – The Quezon City and Manila City governments will continue expanding their coronavirus disease 2019 (Covid-19) vaccination programs even if they have exceeded their goals for population protection in 2021.
As of New Year's Eve, QC has already administered 4,304,040 doses that include first, second, and booster doses.
Of the total 2,075,379 fully vaccinated, 2,046,000 are adults while 193,756 are minors aged 12 to 17 years.
The city initially targeted 1.7 million adults.
"Our vaccination efforts are well within targets. What we are now planning for is how to further intensify and hasten our booster campaign in order to provide our people added protection for a possible Delta surge due to the holiday festivities as well as in preparation for the Omicron variant," QC Mayor Joy Belmonte said in a text message to the Philippine News Agency (PNA) on Friday.
QC started its inoculation program in March strictly by schedule to prevent overcrowding in sites and ensure the implementation of the health and safety protocols.
Now that the city has reached its target number, Belmonte said that they will be assigning sites for walk-ins in 2022.
"But at the moment kahit officially walang walk-ins (even if officially walk-ins are not allowed), we still accommodate walk-ins but those who have bookings are prioritized over them," she said.
The city of Manila, meanwhile, requires preregistration but all sites are on a first come, first served basis despite drawing flak for incidents of overcrowding that disregarded physical distancing.
The city also accommodated even non-residents and will continue to do so in 2022.
As of December 30, the city has already deployed 3,033,574 doses, with 1,484,879 already fully vaccinated, higher than its original 1.2 million goal.
Minors aged 12 to 17 who are fully vaccinated are at 103,422 while 114,168 booster shots have already been administered.
The country is gearing up for the vaccination of children aged 5 to 11 years using lower doses of the Pfizer jab. (PNA)