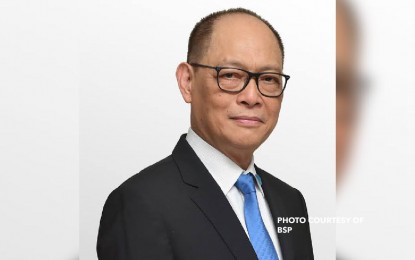 MANILA – 2021 will be remembered not only because of the pandemic but another year of record-low interest rate -- a measure eyed to help lift the economy while ensuring financial inclusion and digitalization of financial transactions.
To date, the Bangko Sentral ng Pilipinas' (BSP) key policy rate is at 2 percent, a level kept since November 2020 to encourage banks to lend more to help spur economic activity that staggered from the pandemic's impact.
BSP's policy-making Monetary Board (MB) slashed the central bank's key policy rates by a total of 200 basis points last year, which is among its contribution to address the pandemic's economic impact.
So far, it has injected around PHP2.3 trillion worth of liquidity into the domestic economy through various measures like rate cuts and reduction in the banks' reserve requirement ratio (RRR), which has also been cut by as much as 200 basis points.
BSP Governor Benjamin Diokno said "2021 proved mankind's resilience yet again."
The Philippines, for one, has posted two consecutive quarters of growth starting in the second quarter of this year after five quarters of negative prints.
Growth, as measured by gross domestic product (GDP), grew by 12 percent in the second quarter this year, a turn-around from the decades-low -17 percent same period last year.
It was followed by a 7.1 percent GDP expansion in the third quarter, which made economic managers revise upwards the growth target for the year, after cuts in the previous months, to 5-5.5 percent.
Unemployment
Relatively, unemployment has gone down to around 7.4 percent last October after rising to 17.6 percent in April last year when the government implemented lockdown to address the spread of the coronavirus disease 2019 (Covid-19).
Also, the manufacturing sector has recovered, with the purchasing managers index (PMI) registering an eight-month high of 51.7 percent last November and trade sustained its recovery.
These developments have transpired as the government improves its quarantine measures and allowed more people to work and let the economy slowly go back to its pre-pandemic activities.
"The Philippines has gotten better at containing the virus, although we must all remain vigilant as new variants are discovered. The government's virus-containment strategy has shifted from wide-area to more targeted granular lockdowns," Diokno said.
Digitalization of financial system
For next year, Diokno said they will further push for increased digitalization of the financial system, a goal that got a boost during the pandemic as more people turn to digital transactions to lessen chances of contracting Covid-19.
BSP has adopted a Digital Payments Transformation Roadmap, wherein it aims to make digital payments half of the total transactions by 2023.
As of 2020, share of digital transactions has risen to 20.1 percent of the total and this is expected to increase further towards the end of 2021 since more people have realized the convenience of using the various digital payments platforms.
The BSP has also prioritized financial inclusion, allowing more people, especially those from low-income households, to be part of the formal financial system.
It targets to have at least 70 percent of Filipino adults a part of the formal financial system by 2023.
As of the second quarter of 2021, around 53 percent of adult Filipinos are now part of the system from only around one-third of the total some years ago.
Diokno said "faster processing of payments speeds up capital turnaround and, therefore, income growth."
"Looking forward to 2022 and beyond, the Bangko Sentral ng Pilipinas (BSP) is working incessantly toward a better-than-ever Philippine economy. The goal is not to simply regain what was lost. Besides robust growth, we are gearing up for a post-Covid economy that is more technologically advanced, more inclusive, and more sustainable than ever before," he said.
The central bank chief also stressed that monetary authorities "will ensure that monetary policy remains in sync with other initiatives to hasten our economic recovery."
Contribution to environment protection
He also sees the need to widen the central bank's contribution not only to the economy but also the environment, citing that "climate change is real and its impact devastating."
In line with the UN Framework Convention on Climate Change, the Philippine government bids to cut its carbon emissions by 75 percent by 2030.
The BSP issued the "Sustainable Finance Framework" in April 2020, a measure that enjoins the banking sector to adopt sustainability principles in their operations.
It also issued the "Environmental and Social Risk Management Framework" in October 2021 and this requires banks to set environmental and social objectives that include green financing.
Diokno said "with sustainability at the top of the policy agenda, the Philippines is paving its way to a climate-resilient economy and citizenry."
"We shouldn't let the Covid-19 crisis go to waste: we should learn from it. We will rebound and build back better -- toward a more technologically advanced, more inclusive, and more sustainable economy for all Filipinos," he added.
All these measures have been noted by economists and debt raters, alike.
Monetary policy
Rizal Commercial Banking Corporation (RCBC) chief economist Michael Ricafort, in a reply to e-mailed questions from PNA, said "the BSP has done a great job in ensuring the continuation of accommodative monetary policy, by at least keeping the key policy rate at the record low of 2 percent since November 2020."
This decision, he said, "is important to support and sustain the economic recovery prospects after reeling from the adverse economic/business effects of the series of lockdowns since last year up to a few months ago, despite some pick-up in inflation to above the upper end of the 2-4 percent inflation target."
He said the liquidity infusion measures implemented by the central bank since 2020 "helped the continuation of excess liquidity in the financial system that fundamentally help keep short-term interest rates near record low levels,"
Having excess liquidity "help(s) spur greater demand for loans/credit that encourages more investment that creates more jobs/employment and other business/economic opportunities," he said.
Relatively, he said the billions-worth of bridge financing the BSP has extended to the national government at zero interest rate lessen the need for the NG to borrow from commercial fund sources to finance its Covid-related programs, among others.
This move, he said, prevented "crowding out effects, at the very least, and help keep short-term interest rates/financing costs near record low levels that help stimulate more demand for loans/credit and help stoke more investments and other business/economic activities."
Also, he said the numerous regulatory relief measures extended to the micro, small and medium enterprises (MSMEs), such as allowing banks' lending to MSMEs as RRR compliance, aided small businesses through financing boost, among others.
The central bank's payments system digitalization bid is also a plus, he said.
"Increased adoption of digital/online banking also helped accelerate financial inclusion as complemented by increased availability of mobile/data services to more areas especially in the countryside/rural areas where the unbanked population remains relatively higher, alongside efforts by the national government to also increase digitalization of transactions and other services such as the distribution of financial aid/assistance for the poorest families, among others," he said.
Relatively, Ricafort maintains that the low-interest rate environment is expected to remain "in the foreseeable future or for as long as necessary, in view of the need to maintain/continue accommodative monetary policy to fundamentally support and sustain economic recovery prospects in the aftermath of the lockdowns earlier this year."
He said Philippine monetary authorities need to take a "delicate balancing act" in terms of policy responses, noting that the "continued accommodative monetary policy (is) still doing more of the heavy lifting to support and sustain economic recovery prospects amid the lack of additional funds for economic stimulus."
One factor seen to affect the BSP's policy decisions in the coming months is the looming tightening in the Federal Reserve's key rates, which is currently at between zero and 0.25 percent.
The Fed recently doubled the tapering of its monthly bond purchases to USD30 billion and is seen to end its tapering by early 2022.
It is also seen to start increasing the Fed Funds Rate by 2022, at a projected hike of 75 basis points. Another 75 basis points increase in the key rates is seen by 2023 while 50 basis points are being forecast for 2024.
"Going forward, any potential hike in the local policy rate would likely follow any Fed rate hikes from 2022-2024, with the start of Fed rate hike after the end of the Fed's tapering of bond purchases by early 2022 (brought earlier vs. the previous estimate of mid-2022), in view of the faster pace of Fed tapering, all of which are part of the efforts to better control, curb, and manage the elevated US/global inflation," he added. (PNA)