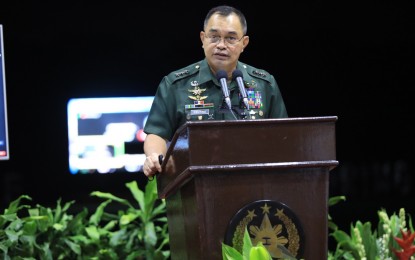 MANILA – Armed Forces of the Philippines chief-of-staff, Gen. Andres Centino, said the military remains focused on ending the communist-terrorist threat this year and vowed to keep the upcoming May elections orderly and peaceful.
In a statement over the weekend, Centino urged military personnel to take on the challenges of the new year, saying that 2021 had its share of difficulties and victories but the organization accomplished much despite limitations and restrictions brought by the pandemic.
"As we move forward onto 2022, I urge every officer, enlisted personnel, and civilian human resource to carry on with the winning momentum into the New Year, and to focus on accomplishing our two most urgent tasks — firstly, in ending the local armed conflict by June 2022; and secondly, in ensuring the conduct of a fair, secure, and peaceful national elections," he said.
He earlier rallied military elite units to intensify their operations to put an end to the decades-long communist insurgency.
He noted that unlike in the past when the campaign against insurgency only reaches a certain point, the intensified operations to end local communist armed conflict has gained steam onward to 2022, also the year President Rodrigo Duterte steps down from office.
In the past year, he said among the military's significant gains include intensified maritime and air surveillance patrol missions in disputed territorial waters, continuous modernization efforts, intensive organizational transformation, and humanitarian assistance and disaster relief operations -- all this done while battling the coronavirus disease 2019 (Covid-19) in the front-lines.
"As such, as your Chief of Staff, I am truly honored and privileged to lead the men and women of the Armed Forces of the Philippines into the New Year with renewed vigor and optimism. My deepest appreciation to the selfless commitment and admirable sacrifices that our troops are continuously exemplifying day in and day out," Centino said. (PNA)