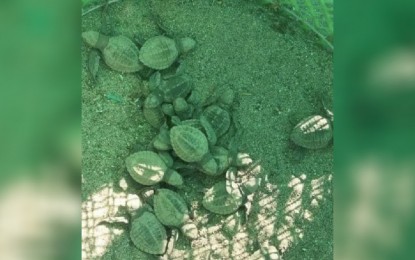 LAOAG CITY – Baby sea turtles emerged from a guarded hatchery in Bangui, Ilocos Norte and were guided back to the wild before the dark on Monday.
Eduardo Angadol, forestry senior manager of North Luzon Renewables and one of the spokespersons of the "pawikan" (sea turtle) conservation group in the province, reported to environment officials that the new hatchlings at the Bangui wind farm formed part of the relocated eggs last November to keep them safe during high tide and protect them from predators.
"The pawikan eggs in nest No. 4 laid last November 13 are emerging and we can release the hatchling by 5:30 p.m. today," he said.
Last January 1, at least 55 hatchlings out of the 106 eggs that were transferred last November 10 at the same hatchery were successfully released into the wild.
The Northwind Power Development Corp. which initiated the establishment of a guarded pawikan hatchery has assigned at least five monitoring members to help secure the endangered sea turtles that lay their eggs near the Bangui bay.
For strengthened protection of marine sea turtles, a multi-sectoral group is pushing for the establishment of a pawikan sanctuary in Ilocos Norte.
The emerging hatchlings are a good sign already," Noemi Ruadap, Community Environment, and Natural Resources officer, said as she expressed support to the proposed project.
Sea turtles often lay their eggs from dusk till dawn and the peak season is from November to March. (PNA)