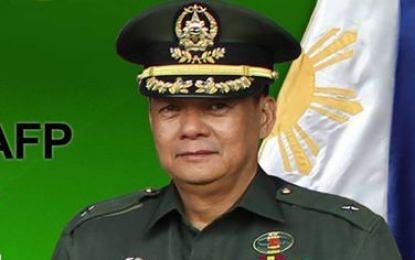 PANACAN, Davao City – The Eastern Mindanao Command (Eastmincom) capped off the year 2021 by neutralizing more than 2,071 combatants and supporters of the New People's Army (NPA), the armed group of the Communist Party of the Philippines (CPP).
In a statement Monday, Lt. Gen. Greg T. Almerol, commander of Eastmincom, said through their intensified focused military operations and the strong support of the communities, local government units, and former rebels and cadres, a total of 70 NPA rebels were killed in combat operations; 147 were apprehended, arrested and captured; 630 capitulated; and 1,224 allies withdrew their support for the CPP-NPA.
He said the government troops have also recovered 690 high-powered and low-powered firearms through combat operations and surrender, and around 97 landmines.
"Our troops have proven their true mettle not only in combat operations but also in times of crisis. Navigating through the pandemic and natural calamities while doing their mandated tasks as protector of the State and the people made our forces even more resilient and ready to come to the Filipino's aid at all times," Almerol added.
Around 192 NPA hideouts were also discovered by the troops in several parts of Eastern Mindanao through the aid of concerned citizens and former rebels who shared information with intel value.
Breakthroughs
Among the breakthroughs of Eastmincom since Almerol took the helm on March 8 last year includes the dismantling of eight NPA Guerrilla Fronts (GF) -- 4A, 88, GF North, GF South, 68A, 55, 89, GF Malayag and the Regional Guerrilla Unit, Pulang Bagani Command.
Almerol also cited the major blows to the NPA as the Eastmincom neutralized a total of 22 key personalities.
They are Jorge "Ka Oris" Madlos, commander and spokesperson of the National Operations Command and also of National Democratic Front (NDF) in Mindanao; Arian Jane Ochate Ramos alias Marikit, secretary of GF 55, Sub-Regional Committee 5, Southern Mindanao Regional Committee (SMRC); Pedro Arnado, chairperson of Kilusang Magbubukid ng Pilipinas - SMRC; Danny Huit alias Bosyong, Secretary of GF North; Khim Agad Mapoy alias Patrick, secretary of GF4A Sub-Regional Committee 3, North Central Mindanao Regional Committee (NCMRC); Ramil Banawan alias Migs/Kim, secretary of GF Malayag; Adelaida Magpatok alias Gwen, former secretary of Far South Mindanao Region (FSMR), National Democratic Front (NDF) consultant, and CPP-NPA-NDF Central Committee Member; Jocy Villaruel Papasin alias Domai, front secretary of Guerrilla Front 18, Sub-Regional Committee 2, SMRC; Billy Berana Jr. alias Borjack, secretary of Guerrilla Front Alip, Regional Operations Command, Regional Sentro de Grabidad, FSMR; and Anna Sandra Reyes alias Kaye, Central Committee member of the CPP and secretary of the Regional City and Town Committee (RCTC) of the SMRC.
"These accomplishments were significant in helping the country move forward with its goal to quell the more than five decades of communist terrorism in the country," Almerol said.
He also urged the Filipinos to continue to be on board to achieve the collective dreams of long-lasting peace and development.
Return to government's fold
Almerol reiterated his call on the remaining NPA members and leaders to consider embracing a peaceful resolution of the armed conflict by accepting the government's offer through the Enhanced Comprehensive Local Integration Program (E-CLIP).
He added that their surrender could be part of their New Year's resolution to finally live a peaceful life together with their families.
"We will continue to maximize our efforts in addressing the challenges brought by communist terrorism through combat and non-military means," he assured.
The CPP-NPA is listed as a terrorist organization by the United States, the European Union, the United Kingdom, Australia, Canada, New Zealand, and the Philippines.
The Anti-Terrorism Council also formally designated the NDF as a terrorist organization on June 23, 2021, citing it as "an integral and separate part" of the CPP-NPA that was created in April 1973. (PNA)