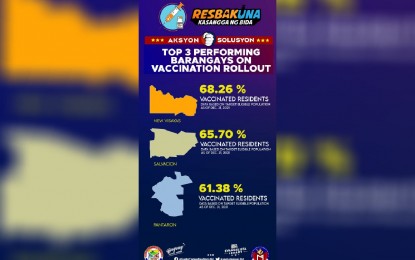 DAVAO CITY— The municipal government of Sto. Tomas, Davao del Norte has given cash incentives to barangays with a high vaccination rate against the coronavirus disease 2019 (Covid-19).
In a statement Wednesday, Mayor Ernesto Evangelista said the cash incentive is part of his administration's strategy to ramp up vaccination in their town.
Based on the report provided by the Sto. Tomas Municipal Health Office (MHO) as of December 31, 2021, topping the list was Barangay New Visayas with 68.26 percent vaccinated residents (PHP50,000 cash incentive), followed by Barangay Salvacion with 65.70 percent (PHP30,000), and Barangay Pantaron with 61.38 percent (PHP20,000).
"This is part of recognizing the efforts of the barangay officials and the residents for taking part in the Resbakuna campaign of the government. It will be the discretion of the barangays on how they will spend the money if it will be for development projects or social services," Evangelista said.
He also thanked the Tomasinos, the barangay officials, and other frontline workers in the community for doing their share as the nation continues to grapple with the Covid-19 pandemic.
Meanwhile, Municipal Administrator lawyer Elisa Evangelista said their main vaccination site would remain operational in addition to the teams conducting vaccination activities catering to barangays as satellite inoculation sites.
She said the municipal government is still awaiting the order from the Department of Health (DOH) for the administration of booster shots for the eligible population.
"We are thinking of other incentives such as eased restrictions, and more mobility for fully vaccinated individuals," she said. (PNA)