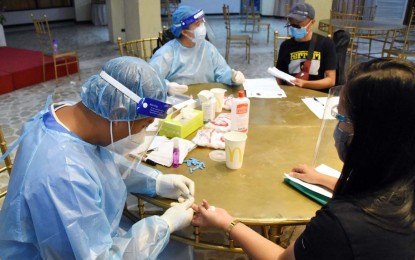 MANILA – The national government is currently discussing proposals to subsidize antigen self-test kits approved by the Food and Drug Administration (FDA) to make testing accessible and affordable to the public, Malacañang said on Wednesday.
Acting Presidential Spokesperson, Cabinet Secretary Karlo Nograles, emphasized the need to allow only FDA-approved antigen self-test kits, noting that the government could not risk inaccurate or false results.
"This is something that is consistently being discussed, especially in light of this Omicron and again, we are looking at different options for us, for the national government, for the LGUs (local government units), and even for private individuals," Nograles said in a Palace press briefing.
While the Palace welcomes other options to boost the country's testing strategies, he said antigen self-test kits will first have to undergo a "rigorous process."
"It has to pass through this rigorous process with the health experts, the FDA chiming in, the DOH (Department of Health) and then obviously the IATF (Inter-Agency Task Force for the Management of Emerging Infectious Diseases) will have to make a decision about increasing the options for testing for our population," he added.
Nograles reiterated that reverse transcription-polymerase chain reaction (RT-PCR) remains the "gold standard" in detecting the coronavirus disease 2019 (Covid-19).
"We are always looking at the RT-PCR as a gold standard, remember," he said.
He, however, noted that having more testing options available in the market is very much welcome.
"We have the gold standard and we have other testing kits coming out in the market that has to pass through FDA that has to be studied by our health experts," he said.
In October 2021, the FDA wrote to the DOH seeking their opinion on at-home Covid-19 tests to be used in the country.
The Philippines has yet to approve any at-home Covid-19 test, but such tests are now being used in countries like the United States and Singapore.
Still under study
In a television interview on Wednesday, Health Undersecretary Maria Rosario Vergeire said the DOH is studying the possibility of recommending the use of antigen self-test kits to detect Covid-19.
She said the DOH had a meeting with the Food and Drug Administration (FDA) and the Research Institute for Tropical Medicine (RITM) on the use of antigen test kits for self-testing.
"Kailangan lang ho nating masiguro na wala tayong misuse of the self-test antigen dahil alam naman po natin na meron po tayong tinatawag na (We need to ensure there will be no misuse of self-antigen, as we all know, we should have the) right test at the right time and appropriate use," she said.
She added the country's experts are studying how this can be done without having inaccurate results.
Vergeire said FDA needs to have registered self-test antigen kits in the country.
The DOH reported 10,775 additional cases of Covid-19 which pushed the nation's tally to 2,871,745 as of Wednesday.
Nograles, meanwhile, enjoined persons experiencing Covid-19 symptoms to isolate immediately even before getting their RT-PCR test results.
"If you feel symptoms/symptomatic, the best thing to do is isolate immediately. Let's assume that it's Covid," he said.
He said they could also approach their LGUs and avail of telemedicine services.
Nograles urged LGUs to ramp up the vaccination to cushion the impact of Covid-19 on the country's health care capacity.
"We need to step up yung vaccination in other regions so that if Omicron or whatever variant goes and spreads (in the) regions, then we won't see an overwhelming number of cases happening in the hospitals," he said.
He warned that more health care workers getting infected would decrease employees attending to patients with severe Covid-19 cases.
"Ayaw rin po natin na mataas ang hawaan kase ayaw rin po natin ma-overwhelm ang ating (We do not want an increase in infections because we do not want to overwhelm our) health care capacities, and that most importantly involves not getting our health care workers overwhelmed with so much work and cases that they have to take care of," he added.
Currently, intensive care unit (ICU) beds are at 35 percent utilization in Metro Manila, and 26 percent utilization nationwide.
Isolation beds are at 32 percent utilization in Metro Manila, and 27 percent utilization nationwide while ward beds utilization in Metro Manila is at 36 percent, while nationwide it is at 19 percent. (with reports from Ma. Teresa Montemayor/PNA)