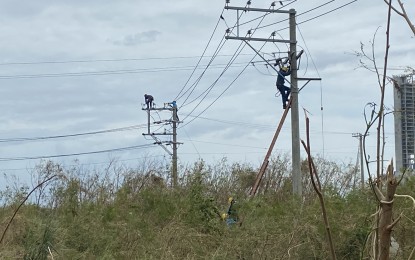 MANILA – Power restoration in the province of Bohol remains limited almost three weeks after the onslaught of Typhoon Odette in the Visayas and Mindanao.
In a briefing Wednesday, Department of Energy (DOE) director Mario Marasigan said the available capacity of power generation facilities servicing Bohol is at 47 percent, or only at 28 megawatts.
Of the three transmission lines that were affected in the provinces, only one line was restored.
He said despite having an available power and transmission line restored to deliver electricity, restoration of distribution utilities (DUs) is still low.
DUs deliver electricity to households, establishments, and other power consumers.
"But our three distribution utilities, the restoration level is still very minimal," Marasigan said.
He added that Bohol 1 and 2 Electric Cooperatives (BOHECO I and II) and Bohol Light Company, Inc. (BLCI) have a restoration level below 5 percent.
The estimated damage cost of "Odette" in three DUs in Bohol reached nearly PHP908 million.
National Grid Corporation of the Philippines (NGCP) head of systems operations Reynaldo Abadilla said Bohol has the lowest actual power loading in the entire islands of Visayas, with actual loading only reaching 5.4 to 9 megawatts (MW).
Panay and Samar have 100 percent loading of 299 MW and 61 MW, respectively; Leyte at 156 MW (86 percent); Negros at 268 MW (81 percent); and Cebu at 452 MW (50 percent).
"We are trying to coordinate the islanding operation in Bohol, and so far with the restored lines by the NGCP, there are some households already being provided with electricity services. However, its sustainability or continuous operation of our generation, as well as transmission, depends solely on the demand. And there are times that our operation is on-and-off because the demand is so low that it can result in further damage to our generation, so they have to stop operation," Marisagan said.
DOE Undersecretary Felix William Fuentebella said the low demand for electricity in Bohol may be due to damaged electric posts and wires that have not yet been restored, or those households that are still recovering from the impact of the typhoon.
He said generator sets were also provided by the agency, the Office of the Civil Defense, and the Department of Tourism to provide power to critical institutions and establishments in the province. (PNA)