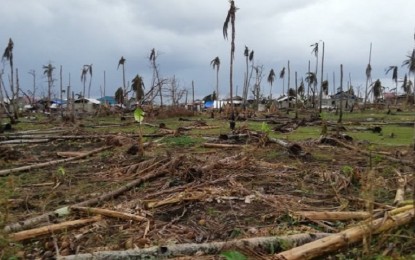 TACLOBAN CITY – The coconut industry in Eastern Visayas (Region 8) has suffered PHP614.27 million production loss as Typhoon Odette destroyed over 10 million trees in Leyte Island when it unleashed its wrath in the region last month.
Philippine Coconut Authority (PCA) Region 8 manager Joel Pilapil said Thursday that 57,367 metric tons of nuts ready for harvesting this year were wasted by the typhoon's 195 kilometers per hour sustained winds.
The typhoon has shattered the livelihood of 82,370 coconut farmers in Southern Leyte and Leyte provinces.
Of the estimated 10,002,709 toppled or sheared coconut trees, 3.9 million of them were damaged beyond recovery.
"Our work is focused on clearing farms from fallen trees and providing alternative crops to affected farmers," Pilapil told the Philippine News Agency.
The PCA has deployed 70 chainsaws to Southern Leyte used seven years ago for the clearing of areas ravaged by Super Typhoon Yolanda.
The agency also has more than 100 chainsaws waiting for chain repair and parts replacement to make them functional.
"The local government units will shoulder the fuel cost and maintenance of these chainsaws during the clearing operations. The clearing is not just the job of the government since there are some coco lumber processors from other regions coming in to process these fallen trees into lumbers," Pilapil added.
The PCA said the cutting is being done mostly by chainsaw operators with existing registration. Then coconut farmers will be paid to move the trees, providing an immediate source of income for them.
PCA also provided partial payment of PHP1.2 million Participatory Coconut Planting Project incentives to farmers in Southern Leyte and some parts of Leyte province.
Pilapil said they will get seed nuts from existing nurseries in Mindanao to replace damaged trees. It will take six to eight years for newly-planted trees to become productive.
"Since the traditional coconut varieties were damaged by Typhoon Odette, this is an opportunity for us to replace it with hybrid varieties," he told PNA.
On December 16, "Odette" barreled through Caraga and Eastern Visayas with maximum sustained winds of 195 kph near the center and gustiness of up to 270 kph. After hitting Surigao, it made two landfalls in Southern Leyte before devastating Central Visayas. (PNA)