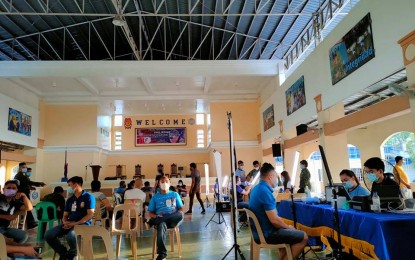 ILOILO CITY – The Philippine Statistics Authority (PSA) has served 1,613,724 residents of the province and city of Iloilo for the Step 2 registration of the Philippine ID System (PhilSys).
In an interview on Thursday, PSA-Iloilo Chief Statistical Specialist Nelida Amolar said they achieved 102.72 percent of their 1,571,029 target as of Dec. 31, 2021.
"It is 64 percent of the 2020 population," she said. The 2020 population of Iloilo, based on PSA data, was at 2,509,525.
The PSA PhilSys Step 2 registration has been temporarily suspended since January 1 and may resume operations probably middle of this month.
Amolar said the temporary suspension would allow them to upload the remaining data registration packet that was left in 2021.
They will also install an update for their client registration system so that by the middle of the year, they would be able to register resident aliens – foreign nationals living on an official basis in the country but are not citizens – and amend erroneous data.
They will also evaluate the performance of their personnel assigned to PhilSys in preparation for the reshuffling of the assignment.
"We will expose personnel to (a) refresher course, especially on new guidelines that were released, after our regional training on January 10-12," she added.
The temporary suspension will also allow their personnel to take a short break since they continued to render duty even during the holidays to accommodate clients, she said.
Meanwhile, Amolar said among the challenges they encountered were the printing and delivery of IDs.
The Bangko Sentral ng Pilipinas, she said, had to work overtime to cope while there was also a delay in the distribution that is being handled by the Philippine Postal Corp. (PHLPost).
As of Dec. 29, 2021, PHLPost has received 314,011 IDs and delivered 259,929 while 188 were returned.
Signed into law by President Rodrigo R. Duterte in August 2018, Republic Act 11055, or the Philippine Identification System Act, aims to establish a single national ID for all Filipinos and resident aliens.
The national ID shall be a valid proof of identity that shall be a means of simplifying public and private transactions, enrollment in schools, and the opening of bank accounts.
It will also boost efficiency, especially in dealing with government services where people will only need to present one ID during transactions. (PNA)