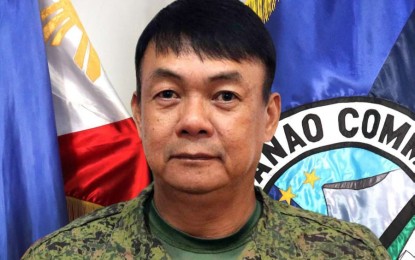 DAVAO CITY – The death of the most wanted leader of the New People's Army (NPA) is a major blow to the communist group and left a huge void in their ranks, the Eastern Mindanao Command (Eastmincom) said Friday.
In a statement, Lt. Gen. Greg Almerol, commander of Eastmincom, said the death of Menandro Villanueva alias Bok was a major breakthrough as it will take the NPA some time to replace him. Villanueva was killed by government troops in an encounter at Barangay Libudon, Mabini, Davao de Oro on Wednesday evening (January 5).
"It will take the NPA some time to replace a seasoned leader as Villanueva. As a result of this, we expect more communist terrorists to either yield to the troops or continue to suffer defeats under an inexperienced leader in the coming days," Almerol said.
Villanueva was the longest-serving secretary of the NPA's Southern Mindanao Regional Committee (SMRC) and currently, the secretary of Komisyong Mindanao (KOMMID), commanding officer of the NPA's National Operations Command (NOC), and member of the POLITBURO of the Central Committee of the Communist Party of the Philippines (CPP).
Villanueva is one of the founding members of the NPA in Mindanao during the 1970s together with Edgar Jopson. During his student years in Ateneo de Manila, he was an activist under the Kabataang Makabayan (KM) and went underground when Martial Law was declared.
Almerol lauded the troops for the accomplishment and the sacrifices of each member of the Eastmincom.
"Setting aside our personal desire and time with our loved ones during the holidays, our soldiers made sure that mission accomplishment is paramount at all times," he added.
Justice
For Jeaciell Ayuban, a wife of a slain Citizen Armed Force Geographical Unit (CAFGU) personnel, Villanueva's death has brought justice to civilians whose lives were ended by the atrocities of the communist group.
In an interview with Philippine News Agency (PNA) on Friday, she said upon hearing the news of Villanueva's death, she had a feeling of relief as it gives justice to her husband.
"I am very happy that the death of my husband was finally given justice," she said in vernacular.
She recounted how her husband, Jeymar, suffered under Villanueva as he was shot point-blank in Barangay Cabuyuan in Mabini, Davao de Oro six years ago.
"Until now, we really don't have an idea why he killed my husband. During also that time, Bok and his group killed several members of CAFGU," Ayuban said.
She added that when they were about to file a case against the NPA, the lone witness refused to testify and even flew to Manila.
However, she disclosed that Jeymar joined the military troops in an encounter in Pantukan, Davao de Oro which she believed prompted the communist group to retaliate.
"It's been six years and the pain they caused me and my three children are unexplainable," Ayuban added.
Meanwhile, Rudy Medado, also from Barangay Cabuyuan, said his brother also suffered from the barbaric acts of the NPA headed by Villanueva.
"They killed my brother and they put a sign in his dead body saying he committed a crime against the party [NPA]," he told the PNA.
He recounted that on Nov. 29, 2020, his brother who is a farmer was abducted in his house by members of the NPA.
"They tortured him and mercilessly killed him," Medado said.
"We will no longer fear now. Their [NPA] presence are no longer found in our area because the soldiers are securing our place and we thank them for their efforts," he added.
As of press time, the Eastmincom has already neutralized 17 top NPA leaders and tallied 545 surrenders in 2021.
The CPP-NPA is listed as a terrorist organization by the United States, the European Union, the United Kingdom, Australia, Canada, New Zealand, and the Philippines.
The Anti-Terrorism Council also formally designated the National Democratic Front as a terrorist organization on June 23, 2021, citing it as "an integral and inseparable part" of the CPP-NPA that was created in April 1973. (PNA)